Commencement
On
9 May, 2013
By
admin
0 Comments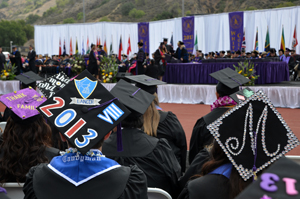 NOTICE TO THE CLASS OF 2014 AND COMMENCEMENT GUESTS
In light of the hot weather predicted for Friday's Commencement ceremony, here are a few suggestions:
Wear something light and appropriate under your regalia. Shortly after the ceremony begins, President Herzberger will invite everyone to remove their robes and hats.
Wear sunscreen and sunglasses.
Drink lots of water before the ceremony to stay hydrated.
At past Commencements, spectators have tended to group together in the stands between the Stadium's main entrance and the 50 yard line, leaving the benches further from the entrance (which also provide good views of the ceremony) more empty. Please encourage spectators to walk just a bit further, past the middle of the field, so they can spread out more.
Encourage spectators to bring sun hats and small umbrellas to provide shade. They may bring coolers into the stadium.
If necessary, seek assistance from First Aid, which will be located under the flag pole. Ice and medical expertise will be available there.
The ceremony will be streamed online at www.whittier.edu/Live and can be viewed anywhere with internet access.
And, most important: have fun!
Commencement at Whittier College is a very special event.
We are proud of our graduates and look forward to celebrating their academic accomplishments.
Students, we want to make this a positive and memorable day for you and your family. Please read all the graduation-information provided here thoroughly to get all the needed information related to graduation.
---
111TH Commencement Ceremony, Celebrating the Class of 2014
Friday, May 16, 2014
9:00 a.m.
Memorial Stadium on the Whittier College campus
Downloads