Art that Mourns
On
15 May, 2013
By
admin
0 Comments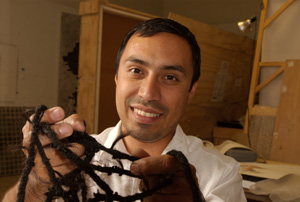 Art professor Daniel Jauregui spends time with students weaving together long strands of black hair. It's an intricate method: lifting one strand over the other from 16 different directions over a disc. The hair turns to braids and then to knots. Over time, a long thick rope begins to emerge.
The ropes of black hair serve a purpose - to help Jauregui create somber paintings and drawings of worn-down buildings full of dark and faded colors that retell a time in history that is no longer here to share its story. In this gallery of loss, Jauregui attempts to capture the historical tragedy of the AIDS epidemic and all the young men who have died of it, specifically in the Los Angeles neighborhood of Silver Lake, which he calls home.
"I want to explore the legacy of that neighborhood," Jauregui shares. "Its history has been lost and my work has been an attempt to deal with the loss of that history." 
Mourning jewelry, a type of jewelry from the Victorian era, was created by Queen Elizabeth after the death of her son. The jewelry weaves a lock of hair into rings as a way to hold on to a little piece of a loved one who has passed away.
Jauregui's students have joined him in the project's creation process.  Handpicked for their skills in craft, the students have learned the Japanese-weaving technique called 'Kumihimo braiding' and are provided with purchased hair to braid independently and transform into thick ropes.
Ultimately, the goal of Jauregui's project is to prepare a 2013 or 2014 showing at his art gallery in New York.
"I want people to be surprised and feel a little somber [when they see this work], and to focus on that notion of death and trauma," he said. "I want people to really start processing the devastation of the AIDS crisis and to become part of the process of mourning."
Jauregui also hopes to address – on a more personal level - his relationship to Silver Lake. As a gay man himself, Jauregui expresses, "there's a whole generation that has died, a lineage, a whole gap that isn't here to share with us what happened. I want to look back from my perspective from a different generation."
Jauregui has shown his work widely in both solo and group exhibits at the Bowdoin Museum in Brunswick, Maine, Los Angeles County Museum of Art, El Museo del Barrio in New York city, among others.
At Whittier, Jauregui teaches courses in photography and art theory. He becomes one of many professors who go beyond the academic formula of teaching and learning and pursue a passion of their own.