Erica Fradinger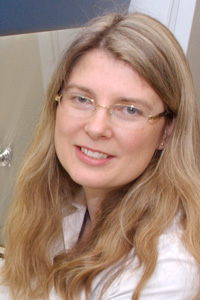 Associate Professor
Department of Biology
Upper Village 208D
562.907.4200 x4997
efradinger@whittier.edu
Mailing address:
Whittier College, Department of Biology
13406 Philadelphia St., Whittier, CA 90608
Academic History
B.Sc. with honors, Biology
Queen's University, Canada, 1995
Ph.D., Neuroendocrinology
University of Victoria, Canada, 2001​
 
Academic Focus
My teaching focuses on coursework exploring the anatomy and physiology of vertebrates. Course materials emphasize environmental adaptations and the relationship between structure and function.
 
Research Focus
My research focuses on understanding how organophosphate pesticide exposure influences neuronal development and its potential role in the development of neurodegenerative disease.
 
Professional Memberships
Society for Neuroscience
Faculty for Undergraduate Neuroscience
American Physiological Society
American Chemical Society
Fradinger EA, Monien BH, Urbanc B, Lomakin A, Tan M, Li H, Spring SM, Condron MM, Cruz L, Xie CW, Benedek GB, and Bitan G.  C-terminal peptides coassemble into Aβ42 oligomers and protect neurons against Aβ42-induced neurotoxicity.  Proc. Natl. Acad. Sci. USA. 2008: Sep 16; 105(37):14175-80.
 
Urbanc B, Betnel M, Cruz L, Li H, Fradinger E, Monien BH, and Bitan G.  Structural basis for Aβ-42 toxcity inhibition by Aβ C-terminal fragments:  discrete molecular dynamics study.  J. Mol. Biol. 2011: July 8; 410(2): 316-328.
 
Li H, Du Z, Lopes DH, Fradinger EA, Wang C, Bitan G. C-terminal tetrapeptides inhibit Aβ42-induced neurotoxicity bind primarily through specific interaction at the N-terminus of Aβ42.  J. Med. Chem. 2011: Dec. 22; 54(24):  8451-8460.
 
Garcia GX, Larsen S, Pye C, Galbreath M, Isovitsch R, and Fradinger EA.  The functional group on (E)-4,4´-disubstituted stilbenes influences biological activity in PC-12 cells.  Bioorg. Med. Chem. Letters  2013: Dec 1; 23(23): 6355-9
 
Watson F, Schmidt H, Turman ZK, Hole N, Garcia H, Gregg J, Tilghman J, and Fradinger EA. Organophosphate pesticides induce morphological abnormalities and decreased locomotor activity and heart rate in Danio rerio and Xenopus laevis. Environ. Toxicol. and Chem.  2014: Jun; 33(6): 1337-45
Currently undergraduate students are working collaboratively with me on three major projects. Preliminary studies in zebrafish and Xenopus have shown that developmental organophosphate exposure causes cholinergic hyperactivity. Therefore, we are examining the effect of this hyperactivity on the survival and architecture of neurons. Secondly, we are examining whether developmental exposure to organophosphate pesticides alters the susceptibility of neurons to oxidative stress and Amyloid β-protein induced toxicity. A third project is evaluating the suitability of the zebrafish to screen oxime compounds as antidotes for organophosphate poisoning. Together these studies hope to elucidate the biological consequences of organophosphate pesticide exposure and help identify novel drug compounds that can prevent neuronal damage.