Whittier's Digital Liberal Arts Center
On
4 Oct, 2013
By
bmccombs
0 Comments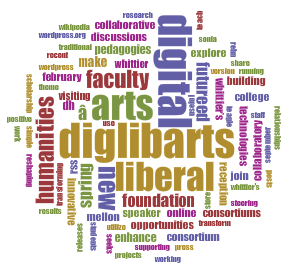 What is a Digital Liberal Arts Center?
The Digital Liberal Arts Center (known on campus as DigLibArts) is a collaborative initiative to enhance the liberal arts at Whittier College by empowering faculty, staff, librarians, and students to make full and better use of the digital technologies that are reshaping pedagogical approaches and transforming research throughout the liberal arts. We are grateful to the Andrew Mellon Foundation for a $750,000 grant that makes our work together possible.
Technology is changing how research is conducted, what kinds of questions scholars can ask, the amount of data we have access to, and how we publish our findings. Whittier's DigLibArts seeks to enable students, faculty, librarians, and all members of the campus community to become more savvy and creative about these technological changes that are transforming every field in the liberal arts. Please visit our blog to learn more about Whittier's DigLibArts Initiative.