Internships & Fellowships
On
23 Apr, 2013
By
Anonymous (not verified)
0 Comments
Internships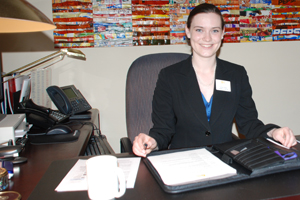 The Economics Department strongly encourages its students to take advantage of internships as part of their undergraduate experience. Many majors take advantage of our close association with the Business Administration Department and participate in its internship class. The Department also works with the College's Center for Career Planning and Internships to help students obtain internships both locally in Los Angeles and Orange County and in other areas of the country.
In the recent past, majors have interned with Wells Fargo and Goldman Sachs in New York City.
To learn more about Internships available to Economics students, please speak to a department advisor or visit the Center for Career Planning and Internships website.
Fellowships
Whittier's Director of Fellowships along with faculty and staff advisors is committed to helping students launch their search for internal, national, and international fellowships that fit their intellectual, professional, and personal goals.
Each year, students compete for and win impressive scholarship and fellowship awards. To date, Whittier College has had four Rhodes Scholars, two Thomas R. Pickering Foreign Affairs Fellows, several Fulbright awardees, and a number of finalists for prestigious national and international opportunities.
Winning a fellowship, scholarship, or grant not only adds prestige to a student's resume, but it also provides financial support during college or post-graduate studies.
To find fellowships that match your interests, please visit the Fellowships website.