Research & Fieldwork
On
25 Apr, 2013
By
Anonymous (not verified)
0 Comments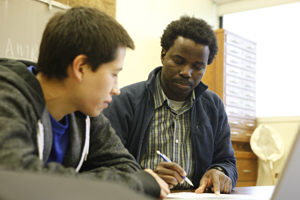 Faculty in the Environmental Science department are engaged in a number of research activities that involve undergraduate students who are frequently hired through work studies opportunities, exception funding and internship programs. Faculty research is also an integral component of the various classroom and field experiential activities.
Cheryl Swift is an ecologist who focuses on Mediterranean ecosystems, and has branched out to study coastal wetlands. She has involved students in her research in South Africa and Southern California.
Cinzia Fissore's research focuses on soil carbon cycling and stabilization processes in forest and grassland ecosystems and their responses to climate change. She is also interested in investigating biogeochemical cycles in urban ecosystems.  
sal johnston's  work focuses on sustainable food systems, environmental justice and land politics. sal is currently working on a book Growing Change: Urban Agriculture in Los Angeles. sal also partners with Grow Good, a non-profit urban farm and LA Neighborhood Land Trust.
Robert B. Marks is an environmental historian who does most of his teaching and research both on China and on the early modern world. His most recent book is China: Its Environment and History, and he is currently writing an environmental history of the early modern world.
David Mbora is an ecologist, and conservation biologist, interested in understanding how the preeminent threats to biodiversity, habitat loss and fragmentation, impact animal populations. He involves undergraduate students in all his research projects, including fieldwork in Kenya and laboratory analyses at Whittier College. He teaches courses in conservation biology, ecology and evolution, and environmental science.
Natale Zappia specializes in colonial/revolutionary North America with an emphasis on the early modern borderlands of the Atlantic World, Pacific Rim, and Native America. His research and teaching also explores the ways that continental trading networks, food pathways, and ecologies transformed North America over the past three centuries. His research on long-term environmental change intersects with his interest in modern food systems and community-based movements that are fighting to gain access to healthy environments in rural and urban areas.
All of our faculty involve students in various aspects of their research. For example, select students support faculty members with their professional academic investigations. At other times, it is the faculty which assists the efforts of students in pursuing groundbreaking new research. As a result of these experiences, and with confidence in their own abilities, Whittier students regularly go on to participate in conferences (such as the Southern California Conference on Undergraduate Research) and other academic conclaves across the nation.
Students further interact with faculty members in programs that are part of the College's Centers of Distinction and take place at Garrett and Hartley Faculty Masters' Houses, on-campus residences where professors live for a multi-year term and coordinate and host an array of educational and social activities.
While students at large universities struggle merely to gain face-time with professors, here at Whittier, students interact with the faculty personally and on a daily basis.
---
Academics in Action

LIFE AMONG THE POKOMO
Conservation Research Brings Amber Orozco `13
To Kenya's Tana River Forest
There I was, lying in my tent, when all of a sudden I hear these series of very loud grunts. It was not like the other night, when I heard a lion's roar from the other side of the river. Nor did it sound like a hippopotamus, whose grumbles were often compared to the contagious laughs of Tim Allen and would often, wake me up at the break of dawn. No, these sounds were very different and sounded very similar to trumpets. My curious thoughts would stay with me until I fell asleep. As I learned late that next morning, those sounds were in fact from a group of elephants.
From the sounds of it, I definitely wasn't in my old Wanberg room anymore back at Whittier. Read more.