Tana Experience
On
15 May, 2013
By
admin
0 Comments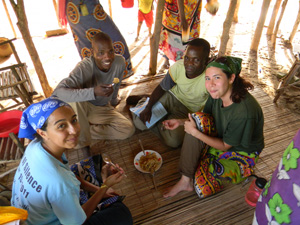 By Amber Orozco '13
There I was, lying in my tent, when all of a sudden I hear these series of very loud grunts. It was not like the other night, when I heard a lion's roar from the other side of the river. Nor did it sound like a hippopotamus, whose grumbles were often compared to the contagious laughs of Tim Allen and would often, wake me up at the break of dawn. No, these sounds were very different and sounded very similar to trumpets. My curious thoughts would stay with me until I fell asleep. As I learned late that next morning, those sounds were in fact from a group of elephants. From the sounds of it, I definitely wasn't in my old Wanberg room anymore back at Whittier. So, where was I? I was in fact, living at a campsite in the middle of a forest (the lower Tana River Forests to be more specific) in Kenya of Eastern Africa. For two summers (2011-2012), as I conducted research with the local indigenous communities and ventured into the forests for fieldwork, I would grow to call this forest my second home.
I was first introduced to the Tana Project by my friend Amanda Edwards '13 during my sophomore year. Amanda had traveled to Kenya that previous summer to assist environmental science professor David N.M. Mbora on his research on dung beetles. She mentioned to me that professor Mbora was looking for a student in the social sciences to assist Dr. Lara Allen, a South African anthropologist, to work on a new initiative in the Tana River forests vicinity, known as People for Conservation and Conservation for People (PCCP). This project aimed to provide solutions to community issues (health care, education, clean water, etc.) by empowering the local indigenous peoples to create sustainable eco-tourism that would generate a stable income for these communities. Or in other words, the goal of this initiative was to establish a preserve that is under control of the Pokomo people and is open to tourists. In this particular situation, the purpose of eco-tourism is to educate tourists, while creating economic development that benefits the livelihood of the local people and supports environmental conservation for the forests.
Since I was a young child, I always had dreamt about traveling to Latin America or Sub-saharan Africa in hopes of helping others. As I got older, I began to develop strong interests and passions for environmental and human rights issues. So when I first heard of the opportunity, I was quick to interview with Professor Mbora and was eventually offered the research position. With such an amazing opportunity, I decided that I wanted to take full advantage of the situation and take my experience in Kenya to the next level and challenge myself my embarking on my own research project.
During the following spring semester, I decided to apply for the Mellon Mays Undergraduate Fellowship. I already had plans of pursing a Ph.D. and eventually entering a teaching career, so the MMUF Fellowship was a perfect match. After one personal statement essay, one essay focused on the mission of Andrew W. Mellon, two letters of recommendation, and an interview; I was awarded the fellowship. MMUF has provided me both the academic and financial support to conduct my very own research project entitled, "The Effective Conservation of the Tana River Forests by the Pokomo of Kenya", where I was able to travel to witness environmental and human rights problems first-hand.
Under the guidance of Professor Mbora, I began working with Dr. Lara Allen during the summer of 2011. We spent six weeks conducting workshops in local villages of the Pokomo people, to learn about the use of natural resources from nearby forests and their own systems of conservation. Having the opportunity to visit the villages and homes of the Pokomo was a culturally eye-opening experience. Their homes were primarily made of forest wood and mud. Just walking on the dirt roads and paths of their villages, it became obvious to me that the Pokomo were more connected to their local environment compared to many people of Los Angeles, whose homes are constructed daily of artificial materials. These structures would also provide the foundation for my MMUF research project. After the conducting the workshops, one of vital pieces of information that was gained was the number of tree species needed to construct a household of the Pokomo, and their way of conserving the forests through their own governmental system known as the Council of Elders. These results would eventual lead back to Kenya.
I returned once again for four weeks during 2012, but spent most of my time in the Tana River forests, collecting data on tree density and species diversity. My goal was to learn about the impact these local Pokomo communities were having on their local environment, by focusing on their use of forest resources. I also wanted to look at the effectiveness of the conservation efforts of the Pokomo through the Council of Elders and the Kenya Wildlife Service (a governmental organization in charge of preserves of the Tana River Forests). To answer my questions, I ventured into 11 forests, which are managed by either the Pokomo or KWS.
Walking through the forest was always an adrenaline rush. Lucky for me, I was always accompanied by two Pokomo people, who helped guide me through the forests and listened for nearby snakes or water buffalo. They also taught me the names of tree species and how to find my way through forests. It was an amazing life experience that only tested my abilities in the field but to learn from the local people in the process.
After weeks in the field and hours of data analyses, I learned that the Pokomo were as effective at conserving the forests as compared to KWS. These results would prove to be an important empowerment tool for the Pokomo people and support the eco-tourism managed by this community.
Living in a Kenyan forests, working with local people, and witnessing the beauty of dozens of different species of animals and trees were just the icings on the cake of all the great experiences I had abroad. Over the course of two years, I found myself being challenged both academically and personally. While collecting data in the forests and working with people, I learned to think on my feet, which has made me a more confident researcher. At first it was not easy leaving my family and lifestyle in Los Angeles, but working with the members of the Pokomo community, the nicest and most welcoming people I have ever met, along with the support of my advisor, made the experience worth it. These experiences and lessons learned in Kenya have stuck with me. I have gained a new appreciation for my surrounding environment and the opportunities that I have to induce change as a young student in the United States. I have learned to be more open to trying new foods and have incorporated the diet I learned in Kenya into my regular diet back in Los Angeles. And now, most importantly, I have gained a new passion for indigenous rights and international development.
Now and then, I find myself reminiscing about my time in Kenya. Eventually, I was able to learn to sleep through my nights in the forests. I look forward to the day I am able to return to the Tana River Forests and continue the initiatives of PCCP. Until then, I will be continuing my research and advocacy for indigenous rights and conservation issues.