About
On
29 Apr, 2013
By
Anonymous (not verified)
0 Comments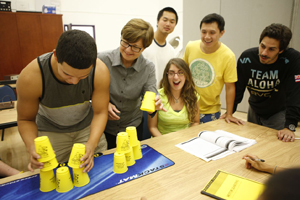 Kinesiology is the study of human movement, which encompasses the scientific disciplines of Movement Anatomy, Biomechanics, Motor Learning & Control, and Exercise Physiology. For a complete curriculum, students also study the mental, motivational, and sociological aspects of sport and exercise in Psychology and Sociology of Sport courses.
Students can major or minor in kinesiology without an emphasis or can major with an emphasis in either Pre-Physical Therapy or Sport Management.
Those wishing to pursue a credential to teach physical education should take courses in Kinesiology and Education before sitting for the CSET exams for a single-subject.
Nutrition is the study of the processes of taking in and utilizing nutrients for growth, repair, and maintenance of the human organism. The department's nutrition science minor places special emphasis on understanding the role of nutrition in disease prevention and the promotion of health.
Students with degrees in Kinesiology or Nutrition often pursue further professional training in Physical Therapy or graduate studies in Exercise Science, Nutrition, and Sports Management.
Internships and fieldwork are highly encouraged for students to gain hands-on experience for future graduate or professional goals.