After Whittier
On
29 Apr, 2013
By
Anonymous (not verified)
0 Comments
Whittier College's Kinesiology & Nutrition Science majors graduate with a wide variety of opportunities before them. Graduates who enter the professional arena have taken jobs in fields that include medicine, physical therapy,  sports management, counseling, recreation management, education, business, and law.
---
See what our alumni are up to
Jim Skipper '73
Running Backs Coach
Tennessee Titans
A few years after graduating from Whittier, Jim Skipper, who had played defensive back for the Poets, decided to trade his helmet and shoulder pads for a whistle and playbook ... "I was always a more cerebral player than most, so the transition from player to coach was smooth, and I felt comfortable taking on this new role. I was coaching guys from the perspective of recently having been in their position, so I found it easy to communicate with them, to get what I wanted from them." Read more.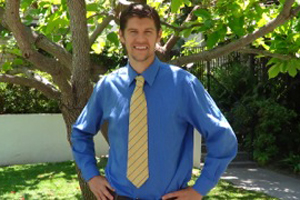 Marshall LeMoine '05
Doctor of Physical Therapy
Orthopedic Certified Specialist
Los Angeles, CA
"Whittier had a great Pre-Therapy program. I came into grad school very prepared in anatomy and physiology. From having to do standup presentations in my classes, I also learned great communication and educating skills, and the ability to adjust to patients' personalities and educational levels." Read more.