Music in Action
On
29 Jul, 2013
By
admin
0 Comments

SING! SING! SING!
Student Ensembles Help Members Connect
With Communities Through Music and Performance
by Ernie Reus '13
I AM AN ECONOMICS AND POLITICAL SCIENCE DOUBLE MAJOR WITH A VERY MUSICAL PAST. When I was about four years old, my grandmother, a music teacher in the Philippines, introduced me to the piano, starting a domino effect that would lead me to the 
violin at age nine, the alto saxophone at 11, and the marching band and jazz band in high school.
Immediately after acceptance into Whittier, I knew I wanted to join the Whittier College Choir. I auditioned during freshman orientation and was thrilled to learn that I had made the choir as a bass. I would eventually also join Whittier's Vocé group. Vocé - which means 'you' in Portuguese - is a smaller, select group of about 16 members from the choir.
In retrospect, my experiences with the choir and Vocé did not disappoint.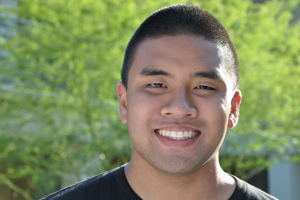 During spring break my freshman year, I flew to Hawaii with my choir mates. Our days there were packed with fun and adventure. We climbed the 1,048 railroad-tie stairs of Koko in Oahu and performed at the Community of Christ Church in Kaneohe. The congregation enjoyed our performance so much they treated us to a wonderful Easter brunch following the service.
The choir, Vocé, and I took another spring break trip my junior year - this time, to New Orleans. Being my first time in that part of the country, I was very excited. While there, we performed songs from our regular repertoire - a mixture of gospel and classical music – for a local church and participated in a master class at Tulane University.
New Orleans was just great - its real southern hospitality, gumbo, Po' Boy sandwiches, jazz, and fried alligator. Mostly, it was eye-opening to be treated so well by its people who were still, both literally and figuratively, picking up the pieces left by the aftermath of Hurricane Katrina. Upon our arrival, we were escorted along a path around the city that showed the incredible damage left by the storm, still present seven years later.
Our reason for being in New Orleans wasn't just to perform. It was also a service trip for us, and we jumped at the opportunity to finally roll up our sleeves to land a hand.  
Together, the entire choir and Vocé groups volunteered at New Orleans Park and helped mulch a trail for future visitors. This volunteer work made me realize that there is more that everyone in the world could offer if they set aside the time. We do not have to be strictly a volunteer group to provide services for the community, and that community does not necessarily have to be our own.
Stephen Cook, conductor with the choir and Vocé and professor of a litany of music courses at Whittier, once said to me:  "Music is integral to understanding our history and the present world around us, and singing brings that experience up close and personal."   
I carry these words with me as I approach the end of my academic career as an undergraduate at Whittier. I cannot help but take a step back from time to time to appreciate how music and performance have remained an integral part of my life, even as my goals and aspirations have shifted. I began my time here strictly focused on becoming an attorney, but my experiences at Whittier have gravitated my focus towards a direct involvement in my local community through public service. I can now appreciate how music education at Whittier has positively affected my peers and me through its facilitation of individual growth, through its engagement of students in their communities, through its dedication to a mastery of music, and through its emphasis on public performances. Whether it's at a local or national level, music has the potential to unite and uplift entire communities.