Internships & Fellowships
On
26 Apr, 2013
By
Anonymous (not verified)
0 Comments
Internships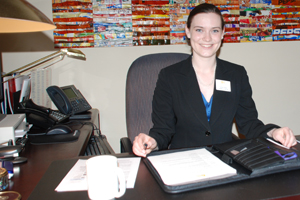 Political science majors have held a variety of internships, including with the U.S. State Department, the U.S. Department of Energy, the United Nations Office of the High Commissioner for Refugees (UNHCR), local government, political campaigns, and community organizations. While there is no guarantee of an internship, the department works closely with students to find such opportunities and usually can provide academic credit for the internship.
Political science majors also volunteer for a number of community service projects including work for Habitat for Humanity and programs to help feed the homeless. Two political science majors recently established the campus chapter of STAND, an organization devoted to raising awareness about the Darfur region in Sudan.
Learn more about the internship process at the Center for Career Planning & Internships. And to locate volunteer opportunities in and around Whittier College, please visit the Center for Engagement with Communities.
Fellowships
Whittier's Director of Fellowships along with faculty and staff advisors is committed to helping students launch their search for internal, national, and international fellowships that fit their intellectual, professional, and personal goals.
Each year, students compete for and win impressive scholarship and fellowship awards. To date, Whittier College has had four Rhodes Scholars, two Thomas R. Pickering Foreign Affairs Fellows, several Fulbright awardees, and a number of finalists for prestigious national and international opportunities.
Winning a fellowship, scholarship, or grant not only adds prestige to a student's resume, but it also provides financial support during college or post-graduate studies.
To find fellowships that match your interests, please visit the Fellowships website.