Facilities
On
23 Apr, 2013
By
Anonymous (not verified)
0 Comments
Qualitative Research Lab
Whittier College's Qualitative Research Lab provides hardware for data collection and processing that students and faculty can check out, such as: portable tape recorders, telephone recorders, video cameras, and transcription machines. The lab also supports data analysis software, including ATLASti, which is commonly used to code interviews and fieldnotes, and SPSS for statistical analysis.
For more information about the research lab, contact Professor Julie Collins-Dogrul at jcollins@whittier.edu.
Sustainable Urban Farm (SUrF) Learning Laboratory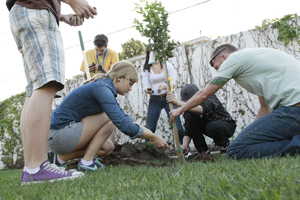 SUrF is where ideas, action, and community meet to rethink the landscapes we inhabit. The 1/8 acre micro-farm – composed of raised beds and fruit trees in the "front yard" of Wanberg Residence Hall (aka "Greenberg) - is grounded in an emphasis on rehabilitating the soil, with the side benefit that students get to grow and eat great food.
SUrF is not a traditional community garden. Individuals are not assigned specific plots. Instead, the gardening collective works the entire micro-farm and shares the fruits of their labor (a portion of produce is also donated to a food bank). Participants that complete the garden education curriculum are eligible for internship placements in community organizations.
For more information about programming, curricular use of the micro-farm, garden education, and internships, contact Professor sal johnston at sjohnston@whittier.edu.