Off-Campus Experience
On
19 Jul, 2013
By
admin
0 Comments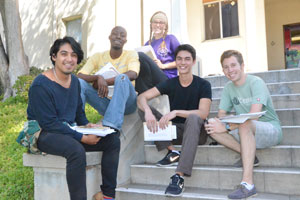 Whittier Scholars' academic studies are integrated with practical, hands-on experience through internships, community service, and study abroad.
This experiential learning component permits WSP advisors, faculty, and on-site supervisors to share in an invaluable educational process. Through the interaction of classroom study and a work-based, off-campus experience, students can apply their classroom learning to enhance their personal development and better prepare for a rewarding professional future.
By study abroad, students enhance their education through exposure to different points of view and, in turn, improve their critical thinking skills.
 
Students who do not plan to study abroad must carry out an internship or volunteer for community service for at least one semester to fulfill the WSP requirement. Students are expected to work a minimum of 40 hours per semester in order to receive one unit of academic credit. A student may choose to do his/her off-campus work for credit or not-for-credit. To receive credit(s) for your work, you must enroll in WSP 399 (Internship).
Internships & Community Service
We strongly recommend that WSP students interested in carrying out an internship or community service speak with the WSP Director early in their sophomore year to receive one-to-guidance. All internships must be approved by the Director prior to starting them.
An internship or community service must relate to a student's particular academic and/or professional goals and interests, as set forth in his/her Educational Design.
Students are encouraged to build networking contacts and take advantage of alumni resources in their search for an internship or volunteer position.
Study Abroad Overview
WSP students interested in studying abroad are encouraged to visit the Office of International Programs in Platner Hall.
To study abroad during academic semesters, a student MUST choose a Whittier College affiliated or approved program in order to use the Whittier College grant money included in a financial aid package. Studying abroad for more than one semester is discouraged, and students who wish to do so will not be granted their College grant money.
Approval for study abroad is not automatically granted. Students must formally apply to their program of choice, along with submitting an essay and other documents required by the Office of International Programs.  
Completing a WSP Contact Information & Checklist Form must be done before the end of the semester preceding your date of departure (or as soon as possible after your arrival).
If you decide to study abroad, we encourage you to become involved in a community service activity when you return from abroad; service for the greater good is without question, a meaningful, satisfying and enduring endeavor.
Fellowships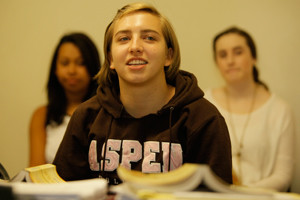 Whittier's Director of Fellowships along with faculty and staff advisors, is committed to helping students launch their search for internal, national, and international fellowships that fit their intellectual, professional, and personal goals.
Each year, students compete for and win impressive scholarship and fellowship awards. To date, Whittier College has had four Rhodes Scholars, two Thomas R. Pickering Foreign Affairs Fellows, several Fulbright awardees, and a number of finalists for prestigious national and international opportunities.
Winning a fellowship, scholarship, or grant not only adds prestige to a student's resume, but it also  provides financial support during college or post-graduate studies.
To find fellowships that match your interests, please visit the Fellowships website.