Welcome, Poet Alumni!
Whittier College alumni are an essential part of the extended Poet Family - an august alumni body, one that has more than a century's history of fierce loyalty and one that maintains a vested interest in the future of this College. The Alumni Association strives to engage this alumni network and encourage them to EXPLORE, CONNECT, and CONTRIBUTE to the College community through a variety of programs and activities.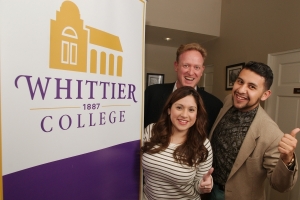 EXPLORE Whittier College - visit the campus, navigate through our website, celebrate Whittier Weekend or attend another Poet event! 
CONNECT with the College and fellow Poets through our social media efforts. Hire Poets first when seeking to fill internships or full-time positions. Join the Poet Nation through your local Regional Alumni Chapter and take part in various activities held throughout the year. 
CONTRIBUTE back to Whittier by sharing your expertise through time, talent, service, or a gift to the College. Share your professional experience with students as a career mentor, guest speaker, or "Backpack-to-Briefcase" panelist. Or make a difference today through a donation to Whittier College - no matter the size, every gift to the College changes student lives. 
VISIT: Dezember Alumni House
CONTACT: 562.907.4222 or alumni@whittier.edu
MAIL: 13406 Philadelphia St., Whittier CA 90608
Alumni Association Board of Directors Seeks New Members
Currently, the leadership for the Alumni Association is seeking new members to participate on its Board of Directors. Commitments of time and resources include attendance at three campus meetings (September, February, May), active participation on a Board committee, and an annual contribution to the Whittier Fund. Interested? Like to know more? Contact the Office of Alumni Programs & Giving, alumni@whittier.edu or 562.907.4222. New terms will begin in September 2015. .... More
Whittier Weekend 2015 Volunteers Needed
The three-day Whittier Weekend affair annually hosts more than 1,000 alumni of varying ages, as well as families of current students. Each year, we are in need of a number of "ambassadors" who can help out at various events during the weekend--from hosting and registration, to more behind-the-scenes setups and decorating. In particular, we'd love to have current Class Agents help us welcome home their classmates! Care to join us? Contact the Office of Alumni Programs & Giving, alumni@whittier.edu or 562.907.4222.
Calling All Regional Poets!
Live far from campus but still want to connect with other Poets in your local area? Your help is wanted! The Alumni Association works with regional alumni chapters across the U.S. and abroad, all with volunteer positions currently open. Like to know more? Contact Krista-Nicole Bishop '00, Board member and vice president for Regional Organizations via the Office of Alumni Programs & Giving, alumni@whittier.edu or 562.907.4222. .... More
ALL-SOCIETY ALUMNI PARTICIPATION CHALLENGE
The 5th annual Society Challenge is underway for the 2014 - 2015 year! Alumni, help your actives win bragging rights plus a financial prize! The Challenge is a friendly competition among Whittier's societies (local versions of fraternities and sororities), each year awarding a grand prize to a society with the highest percentage of alumni who make a gift (no matter what size) to the College.
For more information on the Challenge, or to check the current leaderboard, click here.
To make your gift now, click here.