Artist in Residence
On
29 Apr, 2013
By
Anonymous (not verified)
0 Comments
The Center's featured Artists in Residence strive to build a lasting relationship with Whittier College students through the exploration of artistic themes via performances, lectures, workshops, discussions, collaborations, and one-on-one conversations. Each artist brings their unique experiences and talent to campus and no two artist residencies are the same.
Past Distinguished Artists
Lisa Wolpe
Lisa Wolpe founded the Los Angeles Women's Shakespeare Company (LAWSC) in 1993 and has directed more than 30 productions of Shakespeare and played many of the Bard's leading male roles in festivals and theatres across the country.
As CCA's Distinguished Artist, Wolpe was a visiting lecturer, led workshops with students, and created and presented a solo performance, "Shakespeare and the Alchemy of Gender," as part of the CCA's 2013 spring art symposium.
David Botello and Wayne Healy
Wayne Healy and David Botello, also known as East Los Streetscapers, have collaborated on murals throughout the Los Angeles area, creating iconic symbols of cultural pride and identity for countless Angelenos, as well as sources of inspiration for the thousands of visitors who see their murals all across Southern California and the West.
Botello and Healy were instrumental in the development, design, and completion of one of the largest art projects on campus – a mural outside A.J.Villalobos Hall that visually connects the upper and lower areas of campus.
The project was a collaborative effort between students, faculty, and the artists. The process involved student research and weekly meetings to discuss ideas about what would ultimately be included in the mural. Likewise, the artists, students, and faculty completed the painting.
Aaron Bocanegra
Aaron Bocanegra is a Los Angeles based artist that has worked in a variety of mediums including: photography, sculpture, painting, interactive technology, immersive environments, sound, ecologies, and tool building. A significant element in his work has always been the development and understanding of the technology at the core of the medium he works within. He has had exhibits in Los Angeles, New York, Cuba and Paris. Recently, his film Up North won Best Art Documentary at the Mammoth Mountain Film Festival.
During his residency, Bocanegra team-taught a course with Whittier math professor Bill Kronholm, Math/Art: Collaborative Practices. This course explored the history of collaboration between the arts and sciences. As a culmination of this residency, Bocanegra and Kronholm made the first presentation of their Homology Project, the result of two years of experimentation in combining topology, geometry, electronics, and sound.
Nilo Cruz and Gabriela Frank
Pulitzer prize-winning playwright Nilo Cruz, and Grammy award-winning composer Gabriela Frank were the CCA's inaugural Distinguished Visiting Artists.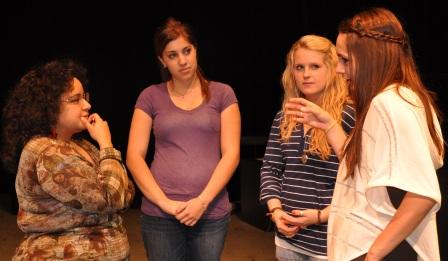 Frank is one of the most sought-after classical composers in the country and has collaborated with numerous award-winning artists. Frank's music has been commissioned and performed by the Kronos Quartet, Yo Yo Ma, Carnegie Hall, and the Chamber Music Society of Lincoln Center, among others.
A prolific author, Nilo Cruz won the Pulitzer in 2003 for his play Anna in the Tropics, becoming the first Latino playwright to receive this award. Among his several honors, Cruz has also won two NEA/TCG National Theatre Residency grants, a Kennedy Center Fund for New American Plays award, and a Rockefeller Foundation grant.
During their one-year tenure, Cruz and Frank complete Act I of a libretto for The Last Dream of Frida and Diego, an opera based on the love affair between Mexican artists Frida Kahlo and Diego Rivera. Their residency culminated with a staged reading, directed by Professor Jennifer Holmes, of their opera in-progress. Eleven Whittier thespians spent over 15 hours working with Holmes, Cruz, and Frank preparing for the performance.