41st Annual Poet Sports Camps
On
29 May, 2014
By
bmccombs
0 Comments
Date and Time:
Wednesday, June 11, 2014 - 8:45am
to
Sunday, August 3, 2014 - 12:00pm
Location:
Donald E. Graham Athletics Center
Event Description: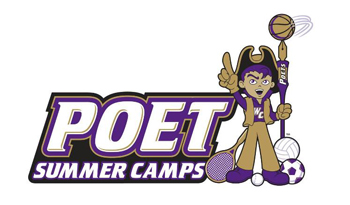 The Whittier College Athletic Department will offer three, two week, morning sessions of sports activity
instruction. The recreational activities rotate among basketball, kickball, track, soccer, softball and wiffleball among others. Additionally, other activities include group games and arts and crafts.
Each two week session will culminate with a Pentathlon where ribbons and certificates will be awarded.
Daily Sports Camp sessions (Monday-Friday) will run from 8:45 am to 12:00 pm for boys and girls 6-12 years of age. Youngsters will be grouped according to age and ability level.
The popular All Day Camp has become one of our most popular camps for kids and parents alike.  Activities include: Group Games, Arts, Crafts, and Swimming.  SPACE IS LIMITED, SO SIGN UP EARLY!!!!!!
* $10 discount in same family, same session. Includes T-shirt and instruction. Youngsters should provide their own shorts and light soled shoes. Lunch is optional and not provided.
Sponsoring Department:
Whittier College Athletics