Hi'ikua & Kupaoa
On
4 Mar, 2014
By
bmccombs
0 Comments
Date and Time:
Saturday, March 22, 2014 - 8:00pm
Location:
Shannon Center for the Performing Arts
Event Description: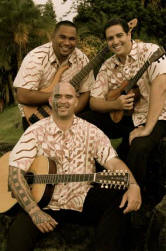 Hi'ikua: In a seamless, continuous movement, we all carry a past while living in the present and moving toward a future. Hi'ikua'smusic reflects the belief that without asking, the knowledge of our ancestors has already been placed within us in the hope that we too will shoulder that responsibility in an unbroken journey into the future.
This worldview is the essence of Hi'ikua's music, which is either composed or performed by Kalehua Krug, Kamuela Kimokeo and Blake Leoki-Haili. The group's name derives from the Hawaiian word that means literally "to carry on one's back." Hi'ikua accepts this responsibility and intends with each song to achieve that goal: to speak of their history in words and music; to enjoy each moment of that expression, and in sharing this with you, to hope that their message will find its way into the future. 
This is why Hi'ikua came to be and how they have chosen to honor those who have come before us.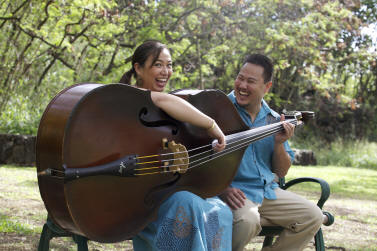 Kupaoa: It all began with a wedding. In early 2005, Iokepa Badis (a fellow co-worker) asked Kellen to play at his wedding to Puni Lau and at their reception in May of that year. Kellen agreed but soon realized that he had no band to play with! He got together a group of friends from college; Līhau, Hōkū Liu and 'Awapuhimele Napoleon and asked if they would all play with him for the wedding. At the first practice, everyone played instruments except for Līhau so the decision was made to stick her on rhythm guitar since she knew a few chords. Kellen played bass and 'Awa and Hōkū both played 'ukulele. Luckily for all of them, Kellen was strong in his higher vocal registers, 'Awa had a beautiful alto voice, Līhau was okay in the middle ranges and Hōkū could sing a soaring soprano so the harmony worked out pretty well. In that first practice they learned a few songs together and made promises to meet up for a second practice.
Well, Hōkū was able to make it for one more practice but because of conflicting schedules, both she and 'Awa didn't last longer than that. The wedding band was now two. Kellen and Līhau continued to practice together, (soon realizing that in a duet you really can't get away with a poor guitar player), with Kellen on the guitar and Līhau learning bass from Kellen as they went along. With the wedding quickly approaching and Līhau having no experience singing before an audience or with a sound system, Kellen decided they should have a practice gig. They went into Kapahulu Avenue's On Stage bar and asked the owner if they could play on an open mic night. He agreed and a few weeks before the wedding, Kellen and Līhau (notice they were still unnamed) played their first gig before an audience packed with friends and family.
Although their first gig was a success, Līhau and Kellen continued to gear up for the big wedding. Still not that confident, Līhau's cousin Kama Hopkins (of the renowned group Holunape) was asked to join them for the reception and they played as a trio. The reception went off without a hitch after which Kama had a chat with both Līhau and Kellen, telling them that they really didn't need him and kindly bowed out.
After the wedding, people began calling both Kellen and Līhau, asking to book them for gigs. Somewhat surprised by their small success, they decided that they should have a name so Līhau named them Kūpaoa. The name describes a "strong, lingering fragrance" which reflected their hopes that their music would linger with people like sweet, memorable fragrances. They began playing regularly at Aku Bone Lounge and later picked up a monthly gig at the Honolulu Club while continuing to book a steady stream of private parties and weddings. In 2007, they were introduced to Kumu Hula Patrick Makuakāne of San Francisco and now play annually at San Francisco's prestigious Palace of Fine Arts and on road trips for his hālau, Nā Lei Hulu I Ka Wēkiu.
In 2008, Kellen and Līhau released their debut album, Pili O Ke Ao which was nominated for 4 Nā Hōkū Hanohano awards. In 2009, the members of the Hawai'i Academy of Recording Artists honored the duo with a Nā Hōkū Hanohano award for Most Promising Artist of the Year and also awarded Kellen and Iokepa Badis the prestigious Haku Mele Award for Hawaiian language song composition of the year for the song, Uluwehikalunaoka'ala.
Küpaoa's highly anticipated second release, English Rose, was released worldwide in June of 2010 andshowcases the couple's musical versatility, becoming a fast favorite with fans old and new. Critics like John Berger have already praised the new album saying, "Küpaoa builds on the artistic and popular success of their Hōkū Award-winning debut album, Pili o Ke Ao, with a second album that is as beautiful as the first." This second effort was nominated for a staggering seven categories for the 2011 Nā Hōkū Hanohano Awards, and they were awarded a Hōkū award for their beautifullycrafted Liner Notes, which accompany each disc.
In 2011, Kūpaoa self-produced a third collection of songs that is available exclusively through their live performances and on their website, www.kupaoa.com, entitled Hāliu. This album honors the song writers of old, with Kūpaoa-style arrangements of all traditional mele. The simple and purposefully hula-friendly songs are quickly becoming a fast favorite among Kūpaoa fans and lovers of all Hawaiian music.
The pair are currently working on their next project, scheduled for release in stores in 2013. 
A new day has dawned beautifully for this talented pair and the future looks bright for Küpaoa, scented with the sweet smell of success.