SMUGGLED, a film by Ramon Hamilton
On
20 Sep, 2013
By
admin
0 Comments
Date and Time:
Thursday, October 3, 2013 - 9:00am
Event Description: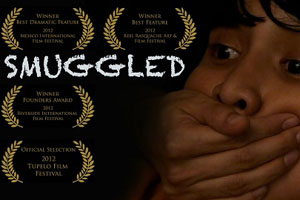 Join the Department of Modern Languages and Literatures, Garrett House, the Whittier Scholars Program, and the Whittier College Cultural Center for a screen of SMUGGLED, a film by director Ramon Hamilton.
Hamilton will participate in the screening.
SMUGGLED is a multi-award winning indie film. The film tells the story of nine year old Miguel and his mother as they attempt to reach the U.S. to reunite with his Dad while being smuggled in a false compartment on a bus. The long trip takes a toll on young Miguel and his mother who needs insulin.