For Greater Global Good: Two Recognized With National Environmental Fellow
On
13 Jun, 2013
By
admin
0 Comments
Friday, September 2, 2011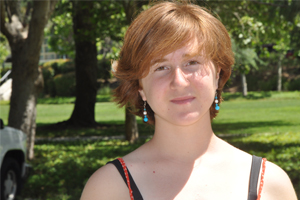 Environmental science major Amanda Edwards '13 (right) has been named a Newman Civic Fellow by Campus Compact — a national coalition of more than 1,100 college and university presidents committed to fulfilling the civic purposes of higher education to improve community life and to educate students for civic and social responsibility. 
Candidates for the award are nominated by their respective college presidents, and final selection criteria is based on identifying inspiring college student leaders who have demonstrated an investment in finding solutions for challenges facing communities throughout the country. 
As a student who inspires her peers and as an accomplished environmental scientist, Edwards is making Earth a healthier planet. Examples of her leadership on campus include founding an organic, sustainable community garden and working to acquire stainless steel water bottles for every student. These initiatives have already been recognized with a Student Life Community Service Award. Moreover, Edwards has transformed her personal interests into academic passion, conducting ecological field research on dung beetles in eastern Kenya that already has been presented at two undergraduate research conferences.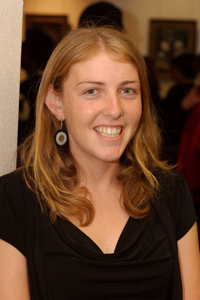 For her part, Alyssa Fluss '14 (left) is getting the opportunity to help Whittier College reduce its carbon footprint as a recently selected 2011 National Wildlife Federation (NWF) Campus Ecology Fellow.
Through the NWF fellowship, she will receive $1000 to carry out a project—co-written by fellow students Melanie Peel '14 and Duncan Ketel '14, along with Professor Cheryl Swift—that involves replacing some of the grass on campus with a California native coastal sage scrub plant. Native plants require less tending to, thus reducing the use of natural resources and greenhouse gas emissions. She will also represent Whittier College at the NWF's inaugural Young Leaders' Assembly in Washington, D.C., next spring.
- from The Rock, Fall 2011