Humanities Scholar Seeks to Bring Research to All Audiences
On
6 Nov, 2013
By
mramos1
0 Comments
Sunday, September 1, 2013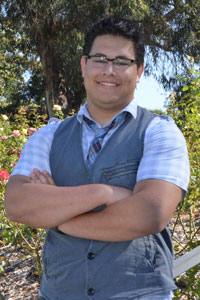 Leading tours at the Richard M. Nixon '34 Presidential Library in Yorba Linda and teaching 10-year-olds about the former president gave Mario Obando '13, the 2012-13 Whittier College Nixon fellow, great insight into the political career of Whittier's most famous alumnus.
Obando, whose fellowship project involved a semester-long internship at the Presidential Library, had to master the skills of taking a complex subject, such as the Nixon administration, and make it accessible to people of all ages.
"I noticed that what visitors were really interested in was the military side of things, Vietnam in particular," said Obando, who set about creating a curriculum about the war that included worksheets for his fifth grade visitors.
While making the rounds as a docent, the history major noticed that the Nixon exhibits did not focus much on the former president's Latin American policies.
Having previously conducted research on Cuba and Costa Rica, Obando decided to focus his research project on Nixon's policy toward Chile. Taking excerpts from documents in the Nixon archives and incorporating narrative accounts, Obando created a virtual exhibit that would allow others to learn from his research. His ultimate goal is to provide a resource for
students who want to do further research on the topic.
"I want to put my history training into good use and make sure that my research is accessible to not only academics, but for
students of all ages," he added.
Having now completed three research fellowships—Nixon, the Mellon Mays Undergraduate Fellowship (MMUF), and the Diversity Fellowship at UC Irvine—and a dozen academic presentations, Obando admits that being an academic was not always on his professional radar.
"I wanted to be a teacher, and then my sophomore year I took a class with professor Jose Ortega who introduced me to the Mellon Mays Fellowship," explains Obando who successfully completed an MMUF fellowship during his junior year. "It was then that I began to see myself as possibly being a college professor. But the real 'aha moment' didn't come until I understood what research was."
With the goal of sharing his newfound passion, Obando worked with the Center for Engagement with Communities and recruited fellow MMUF scholar Amber Orozco '13 in creating a program to expose local minority high school students to academic research.
"I was very excited to have the opportunity to share my research with them and help them hone their skills. The students were very eager to learn about the research process and were very engaged."
Obando is now enrolled at the University of Minnesota, Minneapolis in the American Studies Ph.D. program.
- from The Rock, Fall 2013