Nixon Fellows Visit the Nation's Capital
On
12 Jun, 2013
By
admin
0 Comments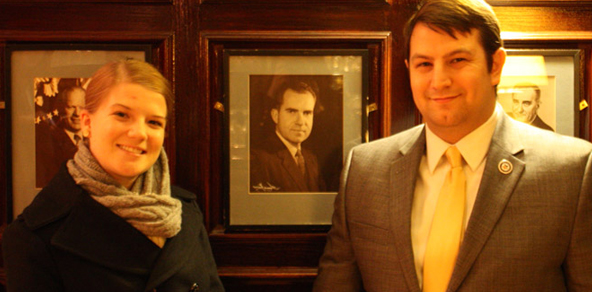 Standing shoulder to shoulder from 3:30 a.m. until noon in freezing temperatures, Richard M. Nixon Fellows Daniel Jacob Kulick '13 and Carlee Shults '14 patiently awaited a moment that would mark American history.​
That moment: the 2013 Presidential Inauguration of Barack Obama.
Kulick '13 and Shults '14 were in Washington D.C. participating in a 10-day seminar conducted by the Washington Center. Culminating their visit to the nation's capital, the pair attended the 57th U.S. presidential inauguration ceremony on January 21.
The seminar session were led by political science professors from around the country and featured guest speakers from the legislative, judicial, and executive branches of the federal government, as well as other political notables.
A lecture by renowned academic, activist, and author Cornel West, who led a talk on race and poverty in America, left a particularly lasting impression the students.
"He was a passionate, thoughtful and emotional speaker that immediately connected the far away world of politics to my everyday life and academic work at Whittier College," said Shults, a sociology and Whittier Scholars Program double major from Avondale, AZ. 
Kulick, a political science major from Santa Clarita, CA, kept a blog during his 10 days in Washington D.C. – sharing insights about the seminar for the student newspaper, The Quaker Campus.
While this was not Kulick's first time in the capital, he interned with California Congresswoman Grace Napolitano's office while studying at American University through the Washington Semester program in spring 2012, he and Shults had a unique experience when visiting the Capitol Hill.
"As time was running out we rushed to the gallery to catch the final moments of a House roll call and got to see the members on the floor making small talk and side line deals. I was pretty excited, as was Carlee, to see Congress in action," said Kulick.
Shults and Kulick were at the capitol building meeting with Whittier alumna Melanie Abe, a legislative aid for California Congresswoman Loretta Sanchez, who helped the duo secure inauguration tickets.
In addition to attending the 10-day seminar, both students took on a fellowship research project.
Kulick's research examined the effects of the Citizens United v. Federal Elections Commission Supreme Court decision on the first 2012 presidential elections.
Experiencing the inauguration first hand became part of Shults' overall fellowship project that compared the first and second ceremonies, through content analysis of the inaugural prayers, addresses and additional components.
"I found it most exciting to be a part of the moments not seen on television, such as the loud protestor in the tree behind me, the friendly people surrounding me, spotting the celebrities that walked by, and the anxious pulse of excitement that ran through the city," she said. "I had a great view of the podium. Which means that if I squinted very hard I could see President Obama's hands moving."
- by Samantha Quintanar '13