Senior Class Gift
On
2 May, 2013
By
Anonymous (not verified)
0 Comments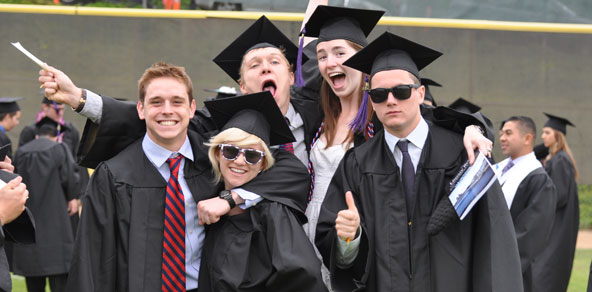 It's not too late to receive your brick and stein! Donate to the senior class gift now via our secure giving portal.​
THANK YOU!
Over 200 seniors (or their parents) donated a record $33,0000 for the Whittier Fund! This helps support scholarships, financial aid, and professors. Thank you for making a lasting impact on the College. 
What is the Senior Class Gift?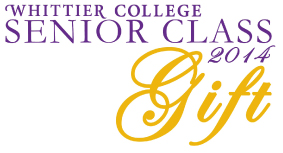 The Senior Class Gift is a chance for graduating seniors to build class unity, identity, and spirit. Throughout the year, we will host many different events to help you connect with your fellow seniors.
The Senior Class Gift also provides an opportunity for undergraduates to leave their "mark" and to give something back to Whittier College. It establishes the Class of 2014 as a prominent force propelling the Whittier Fund, now and in the future. By making a commitment, graduating seniors help ensure a great Whittier College experience for future generations of deserving students.
How can I contribute?
To help Whittier College maintain its national ranking and reputation as a leading liberal arts institution, the giving procedure is as easy as 1-2-3!
Ask a committee member (which is composed of fellow seniors) for a gift form and return it to her/him or
Go to our secure online giving page or
Send your gift to the Office of Advancement, payable to:
Whittier College
Senior Class Gift Committee
13406 East Philadelphia Street, P.O. Box 634
Whittier, CA 90608
What are the benefits of giving?
Gifts from members of the Class of 2014 increase alumni donor participation, enabling Whittier College to achieve a higher national ranking, increasing the value of the degree, and attracting more corporate and foundation gifts.
To show our appreciation, the Senior Class Gift Committee has established a series of gift packages to recognize your support. All donations of at least $20.14 will entitle you to a limited-edition stein and access to all senior parties.
Senior Class Gift Committee
Alex Brain, Chelsea Spear, Francis Maxwell, Jonathan Tupanjanin, Jordan Robledo, Kathryn Harrold, Jamie Hernandez
Senior Class Honor Roll
Thank you to the following seniors for pledging a donation to the Senior Class Gift. Your support is truly appreciated!
Aaron Ahn
Ridwan Aksad
Andy Alonso
Ivette Alonso
Krystal Anderson
Amanda Apgar
Jeanette Arreola
Ariana Assenmacher
Christian Ayres
Kaitlyn Baldwin
Julian Bastida
Sara Berber
Rachel Bickert
Emilie Blechman
Alexandra Brain
Thomas Brook
Caitlyn Brunn
Clarissa Burquez
Tyler Butler
Natalie Caamal
Anna Cade
Crystabel Camacho
Sabrina Carlile
Isabel Castillo
Andrew Chen
Kristen Chikami
Meghan Couch-Edwards
Daniel Cox
Ian Cromwell
Rebecca Cruces
Breanne Cundiff
Molly Cunningham
Kevin Curbelo
Gayle Dargel
Maredith Davis
Breann De Santiago
Courtney DeLano
Shaina Denny
Zachary Dobrenen
Jaclynn Eck
Sarah Elliott
Brianna Esparza
Erin Eulberg
Richard Flores
Alyssa Fluss
Carley Ford
Joseph Gabriel
Alejandra Gaeta
Alyssa Garcia
Juan Garcia
Davis Gerber
Gregorio Giorgi
Aurora Gomez
Armando Gonzales
Vanessa Gonzales
Mickala Gonzales
Faith Govan
Dillon Grandy
Kimberley Gray
Jonathan Gregg
Mikel Guereca
Inga Hakobyan
Samuel Hall
Adrienne Hamada
Andrew Hansen
Laney Harden
Dennis Harris
Jessica Harris
Ajita Harrison
Kathryn Harrold
Amelia Harvey
Katherine Heng
Jamie Hernandez
Gavin Herr
Melanie Hoglund
William Hougan
Dylan Irwin
Rachael James
Humberto Jasso
Andrew Jimenez
Elizabeth Jimenez
Kevin Johnson
Alexander Jungsten
Alison Kalpakoff
Tyler Kang
Duncan Ketel
Sharon Kikinis
Megan Kirkpatrick
Sandra Kirollos
Lindsey Kish
Haley Kleine
Nathan Kleponis
Heidi Koeger
Sarachristine Koffi
Hattie Kolp
Brenda Kramer
James Krull
Danielle Kwasniowski
Kofi Labi
Madison Larson
First_Name Last_Name
Jordan Learn
Anastasia Lee
Kayla Leventis
Amanda Lindemann
Adam Lubliner
Brooke Lyon
George Malhiot
Melissa Manzanares
Matthew Manzano
Levon Massmanian
Cristina Mateo
Kara Mavers
Francis Maxwell
Amanda McMillan
Sonia Meisenhelder
Enedina Mendoza
Jacquelyn Mendoza
Marissa Meyer
Cristine Meza
Rio Millspaugh
Bianca Mitchell
Christian Mohn
Melanie Molinaro
George Montalvo
Maria Montero
Fabian Moreno
Colin Moris
Sarah Nelson
Daria Neymark
Patrick Norton
Alyssa Obata
Nouvella O'Bryant
Robert Oliver
Michael O'Reilly
Michele Ortega
Sabrina Ortiz
Alexa Pegues
Katelyn Penuelas
Adryanna Perez
Brittney Perez
Christopher Perez
Cody Pesqueira
Claire Peters
Taylor Pilkenton
Laurel Pinkley
Marissa Pitman
Christopher Polsi
Joshua Raketich
Jillian Ralls
Emily Ramirez
Rebecca Raya
David Raygoza
Miranda Raymond
Alexandra Reddin
William Renard
Alayna Rigo
Brandon Rista
Irma Rivera
Jordan Robledo
Krizia Rocha
Candace Rojas
Cassandra Ronquillo
Alexandra Sanchez
Gabriel Sanchez
Kenya Sanchez-Alvarado
Monica Sandoval
Hannah Schaffer
Averey Schiermeyer
Liliana Serylo
Carlee Shults
Sheila Sierra
Aaron Silva
Shavontae Simpson
Christina Smith
Chelsea Speer
Ryne Spejcher
Ashlin Steele
Garrin Taga
Alexandria Talley
Claire Thomas
Benjamin Thompson
Khanh Tran
Rachel Trask
Jonathan Tupanjanin
Trevor Van Dyke
Joseph Varni
Lauren Velasquez
Julia Vessels
Daniel Vidales
Claudio Vildosola
Leah Villa
Gabriel Villanueva
Bianca Vinci
Sabrina Viramontes
Haley Von Schottenstein
Anthony Walker
Kristin Williams
Mattilyn Winkler
Samuel Wolfe
Charles Wyatt
Lucie Zahradnickova
Brenda Zambrano
Sophia Zamorano