Current Exhibitions
On
27 Apr, 2013
By
rrafferty
0 Comments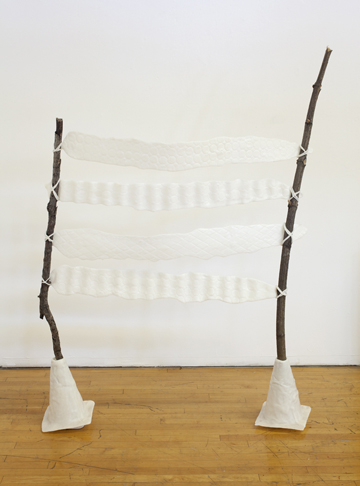 Jane Gillespie Pryor: Territory
Exhibition: October 13 - November 26, 2014
Artist Talk: October 16, 7:00 p.m.
Reception: October 19, 2014 3:00 p.m. to 5:00 p.m.
Jane Gillespie is a Los Angeles based artist. She received her MFA from Claremont Graduate university and her undergraduate degree from the University of Southern California. Jane's work has been exhibited throughout Southern California and is part of the Los Angeles Metro's public art collection. She was a Maguire Fellow and a recipient of the Joe Sonneman Photography Award. Currently, Jane is adjunct faculty at Biola University and Azusa Pacific University.  
Gillespie's work draws from both the domestic and nomadic, exploring the existence of a walled  and wall-less life. The sculptural forms stand as boundary markers, similar to fences, property lines, or signposts. The all-white forms reference hunting traps, animal hides, and shelters. She uses geometric patterning to point to both interior dwellings and designs found within the natural world.