Current Exhibitions
On
27 Apr, 2013
By
rrafferty
0 Comments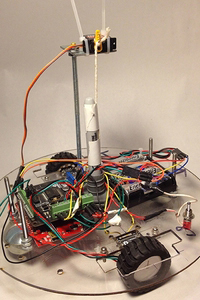 Troy Richards and Ashley John Pigford: twoLovers
Exhibition: December 1, 2014 - January 16, 2015
Artist Talk and Reception: December 2, 2014 7 p.m.
Reception: October 19, 2014 3:00 p.m. to 5:00 p.m.
twoLovers is one of a developing series of works that embody technology with human qualities in order to investigate interpersonal relationships, issues of power and group dynamics.  These works are created utilizing simple robots built and programmed by the artists to write/draw while navigating space.
The two robots circumnavigate the gallery, but never come in contact with one another and never unite; there is a romantic love that goes unconsummated. In doing so they cover the floor writing, searching, and yearning.
Through this work we are interested in exploring the idea of just what it means to be human when, as philosopher Joel Marks has written, "Today it seems plausible to postulate that we are material mechanisms of a high order, who have evolved from common ancestors with the other animals (and plants) and may eventually merge with our digital creations to become 'trans-human' cyborgs." Where once we understood ourselves in relation to animals and some kind of divine being or beings we now can add a new category- robots.
About the Artists
Troy Richards is an Associate Professor of Art at the University of Delaware. He has participated in the Lower Manhattan Cultural Council Workspace Program and the Artists in the Marketplace Program at the Bronx Museum of Art. His work has been featured in solo exhibitions at the Thomas Robertello Gallery in Chicago and the Aqua Art Fair Miami. His work has been included in exhibitions in New York City at P.S.1, White Columns, Socrates Sculpture Park, the Lower Manhattan Cultural Council, LFL Gallery, the International Print Center, and Center for Book Arts among others.
As an artist Troy Richards has created works in a variety of media often blending new technologies with traditional media. For example, building a 3-axis CNC machine to produce an ongoing series of abstract paintings as well as a series of laser cut wood relief prints based on virtual 3-D models.  
Ashley John Pigford is an Associate Professor of Art at the University of Delaware, he see his work as an interaction designer as interrogating relationships between language, technology, materials and people. His cross-disciplinary and highly collaborative design/art work involves a wide range of media experiences including traditional print design, motion graphics, interactive installation, kinetic sculpture, digitally-augmented performance and letterpress printing.
He received his Masters Degree from the Rhode Island School of Design in 2006 after a successful career as co-founder and Creative Director of Meat and Potatoes, a design company based on Los Angeles, CA catering to the needs of entertainment clients. During this period, he worked with MCA Records, Mattel, Fox, Bonfire Snowboarding, Cabo Wabo Tequila, Zoic Studios, Viking River Cruises, among others. Notable projects include Blink 182′s Dude Ranch record packaging, main titles for Fox'sFirefly T.V. show, graphics for Intel's T.V. commercials featuring the Blue Man Group, and graphics for a music video for the Def Jam artist DMX, (which was nominated for two MTV Music Awards).