Program Overview
On
18 Dec, 2013
By
mramos1
0 Comments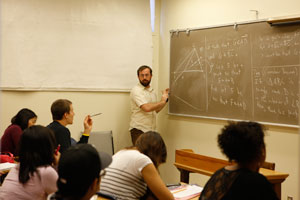 The SMART Program allows participants to receive funding for up to two years. During each year of participation, undergraduates and teachers attend a two-week summer workshop that focus on translating their experiences conducting research into classroom learning opportunities for high school students. Throughout this workshop, undergraduates and high school teachers are paired together by content area. In these groups, participants co-plan activities that embody the types of actions and talk that they engaged in during their research experiences.
During the academic year, the undergraduates continue to pursue their independent research projects with College faculty and assist the high school teachers with implementing lessons and strategies learned during the summer workshop. The undergraduates are required to assist the high school teachers for a minimum of 30 hours over the semester (roughly two hours per week). In conjunction with their fieldwork, the undergraduates enroll in ED 067, a seminar style course that provides them with a forum within which they can make sense of their classroom experiences and receive additional support with pedagogy.
Additionally, as an ongoing opportunity for support, the undergraduates and high school teachers are observed implementing lessons. These observations guide the subsequent full-day follow-up sessions and reflective interviews.
An overview of program activities for one year is presented below:
 
Undergraduate
High School Teacher
Summer

Research (10 weeks)
Summer Workshop (2 weeks)*

Research (2 weeks)
Summer Workshop (2 weeks)*

Academic Year

Research
Fieldwork in high school classroom
Enroll in ED067
Follow-up workshops with program facilitators.

Classroom observations by program facilitators
Follow-up workshops with program facilitators
Reflective interviews completed once a semester. 
*The participants' research and workshop activities run concurrently during this two-week period. This means that the research experiences for high school teachers are smaller in scale than those of undergraduates.
As part of their participation in the SMART Program…
Undergraduates will receive:

$4,500 summer research stipend
$2,500 academic year research stipend
$800/year travel allowance to be used to support attendance at an appropriate conference
$400/year to be used to support research activities. 

High School teachers will receive:

$4,000 annual stipend
$400/year to be used for classroom materials