2013 Participants and Testimonials
On
18 Dec, 2013
By
mramos1
0 Comments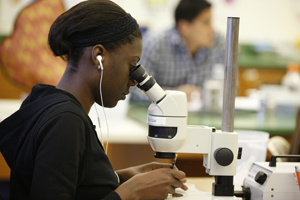 Five undergraduate students and four high school teachers were selected as the first cohort (2013-2014 school year). These participants formed three groups: math, physics, and biology. Each group has produced multiple lessons in conjunction with their participation in the SMART Program; many of these lessons have been shared with the teachers' colleagues at their schools sites – and in some cases at the district level.
The undergraduate research projects sponsored through the SMART Program have been presented at conferences such as Southern California Conference for Undergraduate Research (SCCUR) and Whittier College's annual Undergraduate Research, Scholarship and Creative Arts (URSCA) Presentation Day.
Most of the fellows have elected to continue on with the four highs school teachers during the second year of the program. Those that are graduating and not continuing with the College's teacher preparation program will be pursuing a teaching credential elsewhere.
Testimonials
I have understood the importance of working together in various parts of my academic and professional career, but until this summer program I had yet to experience such as opportunity as this: Engaging in curricular development in collaboration with peers, professionals, and even those of a different field (physics and math). -- 2013 Undergraduate Fellow
[The summer workshop] was a very good experience. I was very interested in figuring out how to be more effective in guiding my students in their learning as opposed to just giving them the info. This workshop helped me do that. … It was a great benefit to work with college students and get to "student" perspective as I can lose sight of that sometimes. -- High School Teacher