105th Whittier College Commencement Ceremony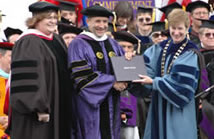 The 105th WHITTIER COLLEGE COMMENCEMENT CEREMONY took place at Memorial Stadium against the golden hillside backdrop on May 23. More than 350 graduate and undergraduate students braved gusts of wind and chilly rain for the opportunity to walk on stage and receive their diplomas. As the rain miraculously ceased just prior to the two-hour event, keynote speaker Dr. Michael Shermer—noted science historian, columnist, and founder of the Skeptics Society—brightened the mood with his humorous speech.
"Apparently, we are not going to let the rain dampen our spirits here," said Shermer, who, prior to beginning his remarks, received an honorary doctorate of humane letters from the College.
In his commencement address, "The Meaning of Life, the Universe, and Everything," Dr. Shermer advised students, "We must live as if this is all there is. Because then how meaningful become our lives, our families, our friend, our communities—how we treat other—when every day, every moment, every relationship, and every person counts."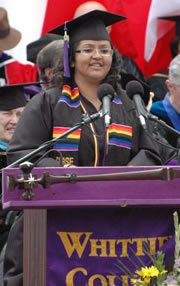 [Student speaker,
 Student speaker Leovijilda Nuñez '08, taking her turn at the podium, related her ups and downs while at Whittier College, including the death of her father during her freshman year. 
"After the funeral my best friend's mother whispered in my ear 'no te pierdas'—don't get lost," said Nuñez. But despite this advice, Nuñez said she had some academic detours. Consequently, some of her family and friends did not believe she would make it to graduation. 
"If I had been at any other school I would not have believed it either," said Nuñez, who says she found a second home at Whittier College. 
"Whether you have a general idea of where you are headed or not, don't get lost," she advised her fellow graduates. "But if you do, remember you can always come home."
In her Charge to the Class of 2008, President Sharon Herzberger told the graduates, "My favorite times as president of this College have been when I have noticed things about you."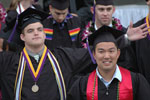 [Whittier College graduates Hansen Hunt and Brenton Inouye.]
President Herzberger cited the diverse and unique accomplishments of this graduating class that consists of scholarship winners, fellowship awardees, athletes, musicians, artists and of course poets.
"And I am not alone," she added. "Your faculty have noticed too, and through our noticing, our own lives have been enriched immensely by your presence." 
President Herzberger gave this final challenge to the graduates, "To notice the sunrises and the sunsets of your life, and to pause to go through your days thoughtfully and with deliberation."
Multicultural Graduation Celebrations