Whittier College Celebrates its 110th Commencement Ceremony
The crowd at Whittier College's Memorial Stadium erupted in cheers and beamed with admiration Friday morning when the College celebrated its 110th Commencement Ceremony.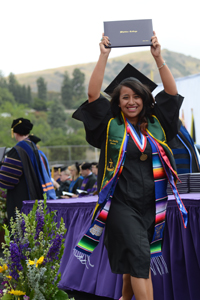 Whittier Scholars Program major and Music minor Emily Baeza of Montebello, CA, delivered the student address to the more than 350 graduates of the Class of 2013.
"When you receive this diploma, Poets, you are accepting the challenge to not only pass on the golden character of our alma mater, but to listen to the needs of the world around us," Baeza said.
"I do not know the secret to success, but because of our support system at this wonderful institution and the qualities bestowed upon us under the guidance of our mentors, I know that many more achievements are to come."
After Baeza's address, the audience witnessed Pulitzer Prize-winning journalist and author Sonia Nazario become an honorary Poet, as she was conferred with a doctorate of humane letters (L.H.D.) by President Sharon Herzberger.
Nazario is best known for her national bestselling book, Enrique's Journey: The Story of a Boy's Dangerous Odyssey to Reunite with His Mother, which tells the true story of an Honduran boy's struggle to find his mother in the United States.
From the stage, Nazario spoke of the importance of determination and persistence in combating whatever obstacles a person may face because of his or her nationality, gender, or financial status.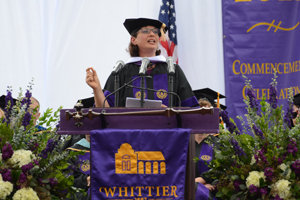 "Like most things, determination—persistence—is learned," she explained. "You have to try something hard enough, long enough, see yourself push through a barrier to have faith you can do it with the next barrier, too."
Nazario continued, "You have already overcome many obstacles. Nearly a third [of you] are the first in your family to go to college. Four of five came here with financial help. A third are Latino. More than half are students of color. You are going to have many moments of doubt and challenges after you leave the campus of this great College today and start the next chapters of your life."
The honorary Poet asked graduates to remember her parting words: "When doubt envelops you, dig deep. Find your ganas. Plow forward."
In her Charge to the Class of 2013, President Herzberger lauded the many accomplishments of the graduates sitting before her and challenged them to make the most of their Whittier education.
As an end to the College's 110th Commencement Ceremony, the president led graduates in a bellow of "Go Poets!," shaking Memorial Stadium one last time. 
Read more in the Whittier Daily News.
View photo gallery.
Watch Whittier College's 2013 Commencement on demand.