Alumnus Michael Muller '01 Wins on Jeopardy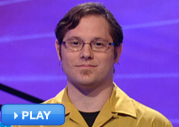 Whittier College graduate Michael Muller '01 made his television debut on the popular game show Jeopardy this week.
According to Muller, his half-hour stint on one of the longest-running television quiz shows was an event that was years in the making. In addition to reading up on everything from history to science to literature, Muller completed multiple pre-tests and interviews. He was finally called to the stage in early 2010.
Muller, who teaches junior high school history in Downey, CA., did not go home as a first place winner, but did make an impressive come back from third place to second during the "Final Jeopardy" portion of the game — winning a little more than $18,000.
And what was his final clue: "When the body of this man who died in 1870 was moved in 2002, a cloth with the motto, 'Un pour tous, tous pour un' was used."
Answer: "Who is Dumas?"