ASWC President Gabe Papa Goes to the Capital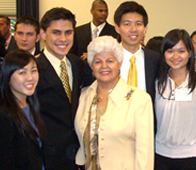 ASWC president Gabe Papa '11 was one of 13 students selected nationwide for a summer internship with the Asian Pacific American Institute for Congressional Studies (APAICS). The goal of the eight-week internship program is for participants to learn the ins and outs of working at the nation's capitol.
During a welcome reception in the Rayburn House Office Building the interns heard from top members of Congress including California Representatives Barbara Lee (D-9) and Grace Napolitano (D-38).
"APAICS is very proud of our selection of interns for the Class of 2010. These students are our future leaders and we want them to learn from their experiences in Washington to help them in making decisions regarding their future," said Ruby G. Moy, Acting Executive Director of APAICS.
Along with the congressional Black Caucus Foundation and the Congressional Hispanic Institute for Congressional Studies, APAICS is part of Washington's Tri-Caucus.
Prominent Asian American alumnus William "Mo" Marumoto '57 was president and CEO of APAICS up until his death in 2008.