Bittersweet Farewell for Shannon Center's Theatre Manager
Wednesday, November 3, 2010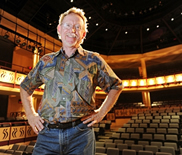 As the Shannon Center celebrates its 20th anniversary, the College and Shannon Center patrons will bid a sad farewell to theatre manager David Palmer.
Over the last 19 years, Palmer has devoted himself to developing the Shannon Center into one of most well-regarded performing arts venues in the Los Angeles area and in the Southern California cultural arts scene. He leaves a legacy of his accomplishment behind, including the establishment of the longest-running, regularly-scheduled Hawaiian music series in the nation. The Aloha Series has brought national notoriety to Whittier College and fostered a genuine, ongoing relationship with several of Hawaii's legendary performers who now regard the Shannon Center as a welcome destination.
Moreover, seeing a need in the local community, Palmer led the creation of the Community Educational Outreach Program, which has served more than 20,000 elementary school children and helped keep the arts an important part of early education.
Palmer has accepted a position with the Soka University Performing Arts Center.