Center for Academic Success Nationally Certified
WELCOME TO CAAS!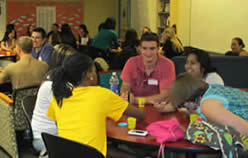 Whittier College's Center for Academic Success (CAS) has received national certification by the College of Reading and Learning Association's (CRLA) International Tutoring Program Certification (ITPC). The ITPC ensures that CAS's tutor training program provides the highest quality teaching and preparation for peer tutors and allows CAS to issue CRLA certificates to individual tutors who meet various levels of certification requirements. 
"Our future plans include advancing our program certification to Level 2 and 3, which will continue to enhance the quality of our tutoring training program as well as enhance the quality of our tutoring services," said CAS Director Kristina Alvarado-Gonzalez.
CAS programs include individual academic guidance, peer tutoring, supplemental instruction, a peer academic coaching program, and an academic success workshop series.
HOURS OF OPERATION
Spring Semester 2013 (1/31-5/13)
January 31, Thursday, 8am-5pm
February 1, 8am-2pm
*Regular Hours Begin February 4
Monday - Thursday 8:00am - 12:00am
Friday 8:00am - 2:00pm
Sunday 7:00pm - 12:00am
The Center for Advising & Academic Success is open to all students who are registered for the 2012-2013 academic year. CAAS services are free to Whittier College students. Visit our website, or feel free to stop by the Center for more information. 
MISSION STATEMENT
The mission of the Center for Advising and Academic Success (CAAS) is to empower all Whittier College students to become successful, self-directed and collaborative lifelong learners. CAAS will provide a supportive and holistic learning environment for anyone who is willing to seek help and work towards achieving their educational personal goals.
Location
Computer Commons, Ground Floor of Wardman Library
Tel: 562-907-4816
Email: caas@poets.whittier.edu