Dress Designed by Cassey Ho '09 Featured at San Francisco Fashion
Friday, September 14, 2007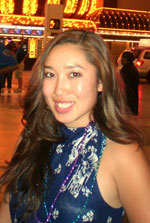 Besting hundreds of entries in a student competition to remake the "little black dress," Cassey Ho '09 was among the 18 winning designers whose ensembles hit the catwalk in the "Emerging Stars" fashion show, held during the 2007 San Francisco Fashion Week.
"It was my childhood dream to become a fashion designer," said Ho, a biology major and business and chemistry minor from Whittier College, who surprisingly had no prior experience in the fashion design industry save an internship this summer.
Ho's little black dress design was flirty and sophisticated, "inspired by Princess Diana and eighth-century women of the Chinese palace." It featured wide tulle sleeves, sequins, a low V-neck, and side slits to compliment its mid-thigh length. Although there were no budget parameters set forth in the competition rules, Ho limited her expenditures to about $70, which covered fabric, lace, and sequins. The simple, elegant dress was made in about a week.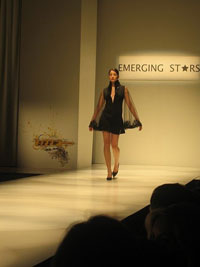 Judged by leading industry professionals, the "Emerging Stars" fashion show is sponsored by GenArt, a national organization that promotes talented new artists. The dresses that were revealed at this year's show - including Ho's - were then exclusively auctioned to members of the San Francisco Opera's BRAVO!
CLUB.
Ho's first exposure to professional design came just this past summer, as she simultaneously interned with an optometrist and at Effie's Heart, a San Jose-based clothing company that draws from the classic styles of the 20s, 30s and 40s to create a modern apparel line for women.
As an apprentice to Effie's Heart founder Kimo, Ho learned about fabrics, drawing, design, and a related software program, impressing her boss enough to warrant inclusion of her own illustrations in Effie's Heart products. Additionally, Ho designed the "Cassey Tote," a handbag that will be sold under the Effie's Heart label in spring 2008.
"I basically went to fashion school this summer," she said, adding that she'd like to eventually fuse her scientific and artistic interests through entrepreneurship.
"It's been a real eye-opening experience for me," Ho says. "This was an opportunity to grow and make money from something that was a childhood dream."