Education Professor Presents the Key to Writing Success for English Language Learners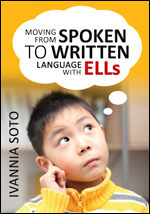 Professor of Education and Child Development Ivannia Soto's most recent book, Moving from Spoken to Written Language with ELLs, demonstrates how oral language scaffolds writing skills and presents educators with tools to help English Language Learners (ELLs) develop oral language before facing the Common Core's increased writing demands.
According to Research Professor Charlene Rivera from The George Washington University Center for Equity and Excellence in Education, "This timely book collects oral language strategies designed to scaffold academic writing for English language learners at intermediate and advanced levels of English proficiency. Concrete examples support the goal of teaching college and career-ready standards across content areas."
Soto specializes in language acquisition, systemic reform for ELLs, secondary literacy and urban education. She has worked as a consultant with Stanford University's School Redesign Network and WestEd, as well as a variety of districts and county offices in California, providing technical assistance for systemic reform for ELLs and Title III. She is author of ELL Shadowing as a Catalyst for Change and the co-author of The Literacy Gaps: Building Bridges for ELLs and SELs. Soto is also the author of a variety of articles on providing appropriate instructional access for ELLs and a contributing author on Houghton Mifflin's Reading Intervention Program Portals for ELLs.
Click here to read more about Soto's book.