Humanitarian-Authors Isabel Allende and William C. Gordon Receive Honorary Degrees
Thursday, October 18, 2007
The conferring of honorary Whittier College degrees on Allende and Gordon was also covered in Los Angeles' leading Spanish-language newspaper, La Opinion.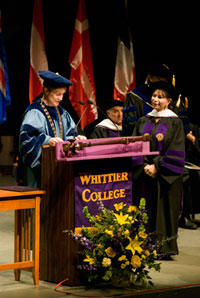 CELEBRATED authors and humanitarians Isabel Allende and William C. Gordon each received an honorary doctorate of humane letters (L.H.D.) from Whittier College in a formal ceremony Thursday evening, held at the Ruth B. Shannon Center. The ceremony was one of a series of activities in which Gordon and Allende participated while visiting Whittier. The couple also attended fiction writing classes at the College, as well a private dinner celebration with students and select faculty, held at the home of Whittier College President Sharon Herzberger.
"The individuals we honor this evening, and all those who have and will receive honorary degrees from Whittier College, have so much to offer in the way of life lessons," said President Herzberger at the start of the convocation ceremony. "We are most grateful that these two have spent this time with us, getting to know us better, and contributing their ideas and experiences at classes and lectures."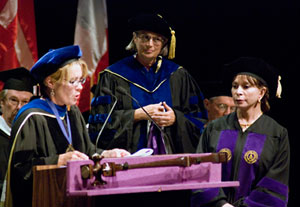 Added Dean of Faculty Susan Gotsch, "Thank you for all of the passion and compassion you have shared with us [today and through your work]. You help us see the world - and our places in it - in new ways."
William Gordon, thrust into living in the Mexican ghetto of East Los Angeles at the age of six after the untimely death of his father, was 14 years old when he started at Whittier High School. He fondly remembers that most of his teachers were graduates of Whittier College, and he believes it was their influence and direction that inspired him to attend the University of California at Berkeley and to dream big.
"Thank you for acknowledging through me that the little guy counts in this society," said Gordon, who has written three novels, including The Chinese Jars, and expects to publish another in 2008.
His wife Allende added, "His heart is still in Whittier."
Gordon began writing after working for decades as an attorney and community activist, not realizing how challenging a task he was undertaking.
Allende said he felt, "the sky is the limit. I'm afraid he got this idea from Whittier."
Called a "genius" by critics, Isabel Allende is one of the most prolific and lauded Latin American writers of her time. The daughter of Chile's ambassador to Peru, Isabel Allende was born in Lima and grew up in several different countries in South America and the Middle East. While in exile in Venezuela after her cousin, Chilean President Salvador Allende, was assassinated in a coup, she began writing a letter to her dying grandfather that became her debut novel, The House of the Spirits.
Through her use of a writing style known as "magic realism," Allende has told the story of Chile and its people, and in particular, its women, to acclaim. She has authored more than a dozen novels, short stories and plays, and is the recipient of numerous literary awards and honors, including the U.S. Critic's Choice Award (1996) and the Dorothy and Lillian Gish Prize, given for excellence in the arts, and in 2004, she was elected into the American Academy of Arts and Letters.
In her remarks, Allende talked about the challenges of being an outsider and her hope that the barriers to success for some will be torn down.
"My dream is that race, gender, and class will not determine people's destiny," she said with passion.
Following the formal event, both Allende and Gordon signed copies of their books, chatting with fans, students, and other event attendees.
Upon the recommendation of the faculty, and by the approval of the Board of Trustees, Whittier College awards honorary degrees to exceptional individuals whose convictions, ambitions, values, and accomplishments parallel the institution's educational mission. This is the ninth decade in which the College has conferred honorary degrees; past recipients include MacArthur Foundation "Genius Grant" winner Reuben Martinez, Manzanar Project author Dr. Gordon Sato, legendary entertainer Bob Hope, Olympic athlete Rafer Johnson, children's author Theodore "Dr. Seuss" Geisel, and First Lady and philanthropist Lou Henry Hoover.