Hundreds of New Poets Welcomed to Campus
Sunday, September 5, 2010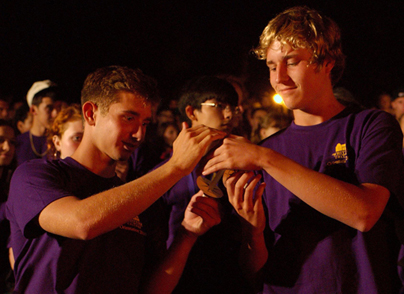 More than 500 first-year and transfer students were on campus today to begin their journey as Whittier College Poets. Incoming students and their families had the opportunity to meet and mingle with alumni, faculty, staff, administrators and fellow students during various welcome receptions held throughout the day.
Later in the evening, the 2010 Convocation, held at Harris Amphitheater, celebrated the 123rd class to matriculate at Whittier College. During the ceremony, President Sharon Herzberger and the faculty welcomed all the new students and their families. The evening ended with a symbolic "Sharing the Light of Learning" ceremony where the torch of learning burned bright and each student held their own lit candle.
"Here today, as intended at this College's beginning, you will learn from faculty who revere breadth of knowledge as much as depth and who will teach you to see the world's challenges from multiple points of view and through starkly different and sometimes conflicting modes of analysis. The faculty will open your minds to new knowledge and experiences, and prod you to question and to doubt," said President Herzberger.
The theme for this year's orientation is "Poets Go Green." Building on the College's commitment to become more environmentally sustainable, orientation will include learning activities designed to incorporate sustainability practices into the campus culture such as a scavenger hunt at the Uptown Farmers Market and participation in the annual Heal the Bay Coastal Clean Up. Moreover, the 50 page new student handbook has gone digital to eliminate paper waste and Wanberg Hall has been designated as the campus' first a green living environment this fall.
New Student Orientation will continue until September 8; Classes begin Thursday, September 9.