Joyce Kaufman Takes on New Post as Inaugural Center Director
Tuesday, October 26, 2010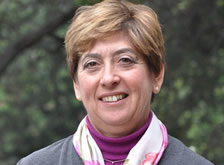 Professor of Political Science Joyce Kaufman has been named at the inaugural director of the new Center for Engagement with Communities (CEC).
The CEC is an expansion of Whittier College's proud history of partnering with communities —those surrounding the College and beyond —and will build upon Kaufman's successful College & Community/Community & College program that exemplifies Whittier's commitment to applied learning and to educating students for citizenship and service.
"The most exciting thing about the new Center is the opportunity to formalize and build on something we've been able to do on a small scale and to institutionalize it in a way that would have a long lasting impact on the students and faculty of Whittier College, as well as the communities we engage."