News (main)
Psychology Research Flourishes at Whittier College

Faculty and students from the psychology department have kept busy this spring presenting research a... More
On
11 May, 2013
By
admin
0 Comments
On
9 May, 2013
By
admin
0 Comments
Academic Regalia
On
9 May, 2013
By
admin
0 Comments
Campus Map
Click here for a downloadable Campus Map. Commencement will be taking place in Whittier College's Memorial Stadium.
On
9 May, 2013
By
admin
0 Comments
In the very unlikely event that Commencement must be moved due to inclement weather, it will be announced approximately 24 hours in advance via email and the College website. If extreme rain or wind is predicted, the ceremony will take place in the Graham Athletics Center, where seating is limited, rather than in Memorial Stadium. Therefore, when students pick up their caps and gowns at the Bookstore, they will each receive FIVE tickets for the indoor ceremony to be distributed by students to their guests only if necessary.
On
9 May, 2013
By
admin
0 Comments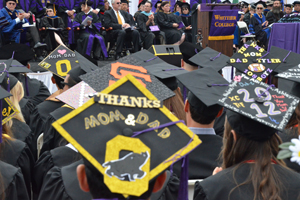 Commencement promises to be a positive and memorable experience for you and your graduating student. The links provided here with assist with planning your day.
On
9 May, 2013
By
admin
0 Comments
Students who have graduated (completed ALL requirements by the end of the spring semester) will receive both their diploma and personalized diploma cover on stage. Students who have graduated during a previous term, who have not graduated, or who are anticipated summer graduates will receive their personalized cover on stage.
Students who opt out of participating in Commencement will receive their diploma and personalized cover based on the preference indicated on their Commencement Participation Form, provided that they have not already received it.
On
9 May, 2013
By
admin
0 Comments
Graduates, please read the following information thoroughly:
To participate in the commencement ceremony and receive a diploma, your tuition bill must be paid in full by April 11, 2014.
Graduates assemble on the Memorial Baseball Field at 8:00 a.m. in caps and gowns. The tassels on the mortar board should be on the right side.
Pages