Poets Headed to Iowa for NCAA Championships
Sunday, November 14, 2010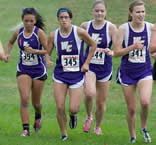 The NCAA Division III has announced the list of qualifiers for the 2010 Division III Cross Country Championships, among which is the Whittier College women's team. The Lady Poets are one of 16 teams to receive an at-large invitation to the championship meet, and will represent the West Region alongside teams from Claremont-Mudd-Scripps and Whitworth Colleges.
Top Whittier runner Michele Callaway '12, who has twice previously been selected to compete as an individual in the NCAA DIII championships, returns for her third go-round, but this time surrounded by her fellow Poet teammates. Callaway also took this season's individual conference championship honors, besting 111 fellow competitors.
This season, the Poets finished third in both the SCIAC Championships and the West Region Championships, and tied for second overall in SCIAC with the University of Redlands.
The NCAA Division III Cross Country Championships will take place on Saturday, November 20, at Wartburg College in Waverly, Iowa.