Professor Roger Noll Speaks on the Economics and Politics of Stadium Subsidies in Pro Sports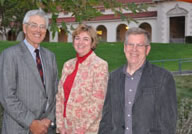 Stanford economics professor emeritus Roger Noll spoke about the economics and politics of stadium subsidies in professional sports as part of the 2010 Kim Thomas Interdisciplinary Lecture.
Noll's research focuses on the economics of sports and entertainment, antitrust and regulation, the economics of public law, and technology policy. He is the author or co-author of twelve books and over three hundred articles and reviews. Noll has done consulting work for the Los Angeles Lakers, NFL Players Association, NBA Players Association, NCAA, Major League Baseball Players Association, United State Football League, Minnesota Twins, Oakland Raiders, and Major League Soccer Players Association.
The Kim Thomas Interdisciplinary Lecture Series is sponsored by the Department of Economics in support of the Liberal Education Program theme "Connections." The series is funded by a gift from Paul Thomas and the Intel Corporation in recognition of the contributions to the college and community by former Whittier College professor Kim Thomas.
To view the lecture click here.