Student-Faculty Research Presented at American Chemical Society National Spring Meeting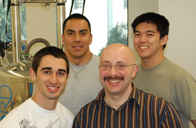 Chester and Olive McCloskey Junior Faculty Chair in Chemistry Ralph Isovitsch, and Professor of Chemistry Devin Imoto, along with Whittier students Joshua Smith '11, Michael Galbreath '11 and Andres Villapando '11, presented collaborative student-faculty research at the annual professional conference of the American Chemical Society (ACS) in San Francisco March 21-25.
Smith and Imoto presented a poster entitled "Quantifying fibrolase using a widely available technique: Polyacrylamide Gel Electrophoresis."
Galbreath's poster presentation, "Antioxidant activity of the dichloromethane extract of commercially available prunes on differentiated PC12 cells," examines the properties of commonly used antioxidants. Meanwhile, Villapando's research involves creating new compounds that glow and can potentially become more stable LCDs.
Isovitsch has presented his collaborative student-faculty research at the annual conference for the past three years.