Sweet Ride: Young Entrepreneur Makes Waves Combining Internet, Ingenuity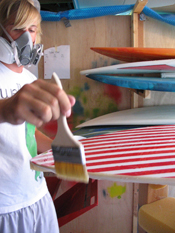 It did not take long for Matt Jung '08 to figure out that he could not easily afford the most critical piece of equipment in his new surfing hobby: a well-crafted and stylish surfboard. After all, the surfboard manufacturing industry takes full advantage of the craze to ride the waves, offering a range of pricing, styles, and materials—none of which is particularly geared to those with more conservative incomes.
But rather than let himself be outpriced, the industrious Jung decided to learn how to make his own surfboard. And so with no experience, apprenticeship training, or knowledge other that what he gained surfing a cyber-sea—the World Wide Web—he began to do just that.
As he tells it, all it took was connecting with a few online forums on surfboard shaping, reading a lot, and scouring several Internet archives. With savings and high school graduation money, he then purchased basic equipment and set up his workshop in a shed at his parents' home.
Officially Jung's business began in the summer of 2004, focusing on simple repairs to friends' boards and capitalizing on word-of-mouth marketing to build clientele. Soon after, he began creating full-scale boards, emphasizing quality craftsmanship with visual concepts that appealed to his target market: "core" surfers.
In the ensuing three years, Jung's company Wellen has substantially grown. It now encompasses personalized, affordable boards and an apparel line, which is rapidly helping to build widespread brand recognition. Looking ahead, Jung is already testing a new line of foam and fiberglass wake surfers for 2008; is sponsoring a team of young surfers who will be featured in a new Wellen ad campaign; and is considering allocating a portion of sales "to the planet."
"After all, if the waves go away," he wryly notes, "then Wellen goes away."
Jung is also in talks with two other Whittier entrepreneurs regarding a possible expansion of the business to include skateboard and snowboard product lines.
Though competing in a market dominated by well-known international companies that have shaped surfing and beach culture, Jung holds his own through smart pricing, by channeling sales through local retail shops—such as Shelter Surf Shop and Billy's Boardshop—and by focusing his marketing through online and face-to-face networking. And this grassroots strategy is clearly paying off. Originally, Jung's goal was to push five boards per month, but this summer, 35 Wellen boards were sold, along with a high-volume of branded apparel.
"On one hand, everything is an experiment; I'm not operating from any strict business plan. But it's also all my risk, money I owe," says Jung. "Realistically, if you want to tap into this culture, and stay in it, you have to be flexible, and you have to maintain your credibility by staying connected to it. And you've got to keep your eye on the big picture—the possibilities, not the limits."