Whittier Breaks Ground on Multi-Million Dollar Renovation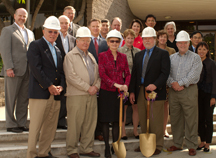 Whittier College has announced a multi-million dollar renovation of the Graham Athletics Center that will enlarge the current pool to regulation size and create a spectacular new entrance to the existing building.
"The new renovation will have a profound impact on the athletics program as well as the Whittier community," said Robert Coleman, Director of Athletics. "When it is completed it will become a first class facility in our region."