Whittier College Law School Featured "Best Law Schools" Princeton Review Guidebook
Wednesday, October 13, 2010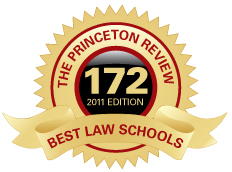 Whittier Law School is one of the nation's most outstanding law schools, according to The Princeton Review. The education services company features the school in the new 2011 edition of its book, The Best 172 Law Schools.
"We chose the 172 schools for this book based on our high opinion of their academic programs and offerings, as well as our review of institutional data we collect from the schools. We also strongly consider the candid opinions of students attending the schools who rate and report on their campus experiences at their schools on our student survey for the book," said Robert Franek, Princeton Review Senior VP-Publishing.
The 2011 Edition has two-page profiles of the schools with write-ups on their academics, student life and admissions, plus ratings for their academics, selectivity and career placement services.
In the profile on WLS, the Princeton Review editors provide quote from students who say "The 'amazing' professors at Whittier are 'dedicated, smart, funny,' and they are 'there to teach you the law, not to hide the ball or play games.'"