Whittier College Named a "Best in The West" College by the Princeton Review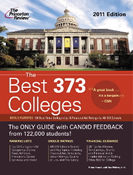 Whittier College is one of the country's best institutions for undergraduate education, according to The Princeton Review. The education services company features the school in the new 2011 edition of its annual college guide, The Best 373 Colleges. Moreover, Whittier made the list of the 120 "Best in West" educational institutions in an online article published on The Princeton Review website.
Only about 15% of America's 2,500 four-year colleges and two Canadian colleges are profiled in the book, which is The Princeton Review's flagship college guide. It includes detailed profiles of the colleges with rating scores for all schools in eight categories, plus ranking lists of top 20 schools in 62 categories based on The Princeton Review's surveys of students attending the colleges.
As in previous years, Whittier College's professor received top marks by students surveyed.
"Really, the professors MAKE Whittier College," summed up one senior.
"[They're here] because they love to teach and it shows," said another student.
In its profile on Whittier College, The Princeton Review praises the College for providing "the quintessential liberal arts education by placing a strong focus on writing and maintaining a wide breadth and depth of knowledge within the humanities."