Whittier Professor Comments on Minimum Wage Increase
Saturday, September 14, 2013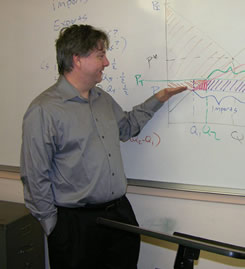 California legislators recently approved a bill that will raise the minimum wage from $8 to $10 by 2016. This 25 percent increase has been met with mixed reactions. Supporters of the bill say that the wage increase will help California's poorest families. While, some experts fear that the increase could cause a loss of low-wage jobs across the state. 
According to Whittier College Professor of Economics David Hewitt, who was interviewed by the San Jose Mercury News, "while there may be fewer jobs available, putting extra cash in the hands of low-wage workers stimulates the economy."
"When they get extra money, they spend it," Hewitt said. "They're not likely to take this raise and put it in the bank or in an IRA. They're going to buy their kids a toy or a schoolbook or buy some extra clothes."
Click here to read more in the San Jose Mercury News.