Whittier Receives $3M Gift Toward Sciences
Tuesday, September 25, 2007
-Norac, Inc. Founders
Chester and Olive McCloskey to
Endow Chair in Chemistry-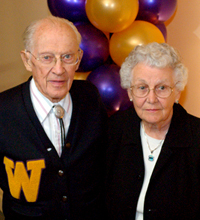 Announced this week, a gift of $3 million was made to Whittier College by married alumni Chester and Olive McCloskey, Class of 1940 and 1944, respectively, to establish an endowed professorship in the College's chemistry department. The Chester and Olive McCloskey Chair in Chemistry is intended for a faculty member who embodies inspirational and dedicated teaching in the sciences.
"There is no doubt that for generations to come, the McCloskeys' generous gift will enable the College to further build a quality chemistry faculty, and, in turn, attract an even greater number of students to all our undergraduate science programs," said Whittier Board of Trustees Chairman Richard I. Gilchrist as he made the announcement at an alumni event on Saturday.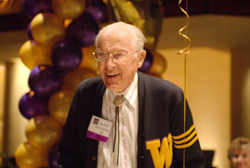 Following the announcement, Chester "Chet""McCloskey and wife Olive gave brief remarks - Chet proudly wearing his 1940s Whittier College letterman sweater.
"I have been very lucky in my life," said the 89-year-old McCloskey. "And I found that with hard work, my luck always seemed to improve."
The McCloskeys called the gift "a long time in the making," referring to their more than seven-decade history with Whittier College, and their longstanding desire to make what they perceived as a "transformational" gift to the College, and specifically to the chemistry program.
After earning multiple degrees in the sciences from Whittier and the University of Iowa, and a subsequent stint teaching at Caltech, Chester McCloskey founded chemical manufacturing company Norac, Inc. in 1953, establishing headquarters in Azusa, California. Over the next several years, McCloskey led research and development efforts to significantly improve targeted chemical manufacturing processes related to ketone peroxides; as a result, he holds several patents, and his company is the leading supplier for ketone peroxides in North America. In the 1960s, McCloskey expanded the business, acquiring a metallic stearate manufacturing company, and creating subsidiary Norac Pharma, which focuses on the development of new chemistry technology for potential prescription drug applications. Today, Norac, Inc. has plants in California, Arkansas, and Sweden.
Herself a "legacy" alumna - her mother graduated from Whittier in 1912 - Olive (Jordan) McCloskey earned her bachelor's degree in home economics, and has actively been involved in the College's alumni organizations throughout the last 60 years.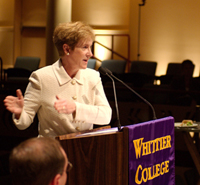 "The establishment of the Chester and Olive McCloskey Chair in Chemistry will significantly impact our science education programs overall," said Sharon Herzberger, president of Whittier College. "Whittier already has an outstanding history of educating scientists, mathematicians, and health professionals, and has served as an excellent pipeline to some of the best graduate and professional schools in the country. This wonderful gift ensures our ability to further advance our efforts in this regard."
At the close of the program, the McCloskeys expressed their hope that this gift may inspire others to make similar, significant investment into the academic and curricular programs at Whittier College, ensuring the quality experience that both of them found as undergraduates at Whittier.
Members of the Whittier College science faculty join the McCloskeys, President Herzberger, and Dean of Faculty Susan Gotsch to celebrate the news.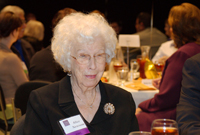 Honored guests present for the announcement included Alice Newsom,wife of W. Roy Newsom, the College's 10th president and one of Chester McCloskey's favorite Whittier chemistry professors.