Whittier Students Donate Meals to Feed the Homeless
Friday, November 19, 2010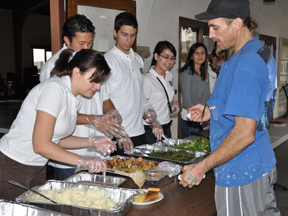 Dozens of homeless people in the City of Whittier received a tasty Thanksgiving meal due to the generosity and service given by Whittier College students. In a project co-organized by senior Doris Youmara and members of the College's Business Leadership club, nearly 200 students donated one of their pre-paid meals to help feed the homeless. In turn, Bon Appétit, prepared enough turkey, mashed potatoes, yams, and other delicious fixing to feed 200 people at St. Matthias Church.
"Whittier College talks a lot about community service, but I felt that we needed a project that the whole school could contribute to in the fall [semester]," said Youmara who led the project as part of her Capstone project. "I'm hoping that this is an event that will continue every year."
According to experts, more people will potentially go hungry this holiday season as a result of the bad economy.