College Credit Courses
On
1 May, 2013
By
admin
0 Comments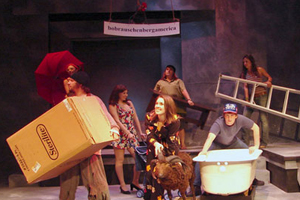 Whittier College offers a range of courses for students who are not currently enrolled at Whittier but are interested in taking Whittier courses for college credit. These visiting students fully participate in all aspects of the course(s) they register for - assignments, exams, class discussions, and labs when applicable.
Like traditional Whittier College students, visiting students also have full access to the College's library, computer labs, athletic venues, recreational facilities, and health center, and have the opportunity to live in Whittier's on-campus residence halls. 
Tuition and Transcript
Visiting students pay Whittier's undergraduate tuition rate per credit. Upon completion of a program or course, the student receives credits and grades on an official Whittier College transcript. 
Overview of Courses
Each of Whittier's college credit courses has different application requirements and deadlines. Learn more about the College's:
Summer Academic Success Institute (SASI): The College's SASI program helps students develop their English writing skills, learn how to prepare and excel for an interdisciplinary academic program, and gain valuable experience in a post-secondary classroom. This program is only available to Whittier College matriculating students.
Los Angeles Integrated Arts Program (LAIAP): Cornerstone to Whittier's Center for Collaborations, LAIAP offers an intensive curriculum centered around contemporary ideas, and features team-taught courses, directed fieldwork, collaborative projects, and timely immersion in and exposure to the current arts industry. In close collaboration with leading arts venues and working professionals in the field, Whittier College's LAIAP delivers students a comprehensive interdisciplinary perspective on the integral role and impact of arts on society.
Faculty-led Study Travel Courses: Through its Office of International Programs (OIP), Whittier offers a variety of courses that provide students with the opportunity to join Whittier faculty in study abroad.