Summer Academic Success Institute (SASI)
On
1 May, 2013
By
admin
0 Comments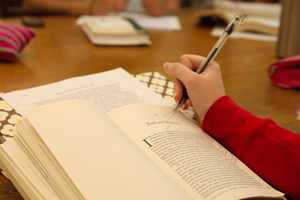 Whittier College invites you to join us for our Summer Academic Success Institute (SASI) for matriculating students. Develop your English writing skills, learn how to prepare and excel for an interdisciplinary academic program, and gain valuable experience in a post-secondary classroom.
The SASI program is designed for incoming students who plan to pursue a four-year education at Whittier College. For some students, this may be your first time on a college campus, and for some of our international students, your first time living abroad. Here, at Whittier, we hope to ensure our success in every aspect of learning - as students, and as members of our community.
PROGRAM OVERVIEW
Writing Lab and College Skills Seminar
July 8 - July 30
The SASI Program begins with a full, academic-intensive four-week seminar to help prepare international students to English-immersion coursework and residency. In the morning hours, students will concentrate on developing writing skills through rigorous examination of literature, individual analysis, practice essays, and guided critiques. In the afternoons, students will design appropriate study habits and learn how to prepare for and interact within the Whittier classroom. Peer mentors will help support students' mastery of the basic conventions of written English, and serve as informal guides as international students explore the campus, the City of Whittier, and the exciting Los Angeles region. This is a 1-credit course.
Business and Society Course
August 1 - August 27
Following completion of the seminar, SASI students will enroll in a highly regarded four-week Whittier College summer course. The course serves as an introduction to business and management in America. The central focus is on the interrelationships of technological, economic, political, and social forces within business enterprises and on management's ethical obligations to owners, employees, consumers, and society at large. This course helps to expand a student's awareness of social responsibility and creating a deeper sense of critical thinking amongst students by studying business issues from multiple perspectives. Writing Mentors will work with students during scheduled evening study hours and provide personalized feedback and coaching for all written assignments. This is a 3-credit course.
Poet Getaway
August 29 - August 31
A highly anticipated part of Whittier College's New Student Orientation program, this three-day, two-night outdoor "camp" is designed to create and build relationships among incoming Whittier students through challenging physical initiatives, sports programming, team-oriented problem solving, and environmental education. Led by trained professionals, students will embark upon an exciting adventure in Malibu Creek State Park, camping together, participating in backpacking, rock climbing, mountain biking, swimming, and team-building exercises.
Class of 2017 New Student Orientation
September 1 - September 3
Capping their summer of preparation, SASI students will take part in the Whittier College Orientation program, the traditional and formal introduction for all incoming students to Whittier College and its campus. The program is designed to give students ample opportunity to get acquainted with academic and student life programs, as well as the resources, facilities, and services available. On hand will be faculty, administrators, and student leaders who will help you complete the transition to your new academic, work, and social life at Whittier College.
HOUSING
Students will be assigned to campus residence hall rooms for the duration of their summer program*. Each hall room is equipped with necessary furniture, including bed, dresser, desk, etc.; each hall also has study and living rooms, a fully equipped kitchen, and limited storage and parking. SASI participants will enjoy use of all available campus resources and facilities, including the athletics center and pool, library, bookstore, and campus dining.
*Please note, rooms assigned for summer use may not be those assigned for the fall/spring academic year. SASI participants will receive their fall/spring residence hall assignments in August 2013.
SASI CALENDAR
| | |
| --- | --- |
| July 6 | Arrive at Whittier College |
| July 8 - 30 | Writing Lab and College Skills Workshop |
| August 1 - 27 | Business and Society Course |
| August 29 - 31 | POET Getaway Program |
| September 1 -3 | New Student Orientation |
| September 4 | First Day of Fall 2013 Semester |
FEES & REQUIREMENTS
The comprehensive fee for the SASI program is US $10,500.00. This includes on-campus housing and meals, class instruction, tutoring, mentoring, and use of all College facilities from July 8-September 1, 2013. A non-refundable deposit of $5,000.00 is required by May 15, 2011. Complete payment is due no later than July 1, 2013.
APPLICATION PROCESS & DEADLINES
To register for the SASI Program, please contact Ms. Ting Kei Catherine L. Weir, director of program development for Whittier College, at cweir@whittier.edu or 562.907.5047, no later than May 31, 2013. Please note: enrollment in Whittier College for the 2013-2014 academic year is required for all SASI applicants.
CONTACT
Ms. Ting Kei Catherine L. Weir
Director of Program Development
cweir@whittier.edu
562.907.5047