Whittier College Undergraduate Summer Courses 2013
On
1 May, 2013
By
admin
0 Comments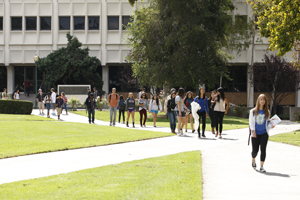 The Whittier College Summer Program consists of three sessions. Some courses, including online offerings, are scheduled according to specific session dates and other courses are offered on dates which overlap into a different session.
Summer Program courses are taught by members of Whittier College faculty and selected adjunct faculty. All courses satisfy requirements for Whittier College academic credit and may be applied toward credential and degree requirements.
SUMMER REGISTRATION (Deadline May 13)
Whittier College students:
Complete an Add/Drop Form, which may be found online here or at the Registrar's Office front desk.
Take the Add/Drop form to the Business Office to receive a stamp of approval.
Return the stamped Add/Drop form to the Registrar's Office for processing.
During Session I, students may take a maximum of four credits. During Session II, students may take a maximum of six credits. During Session III, students may take a maximum of three credits. The maximum number of credits for which any student may register during the summer is 13.
Non-Whittier Students:
Apply for non-degree admission by completing an Application for Non-Degree Admission, which is available online here or at the Registrar's Office front desk.
A student will be notified of admission via email and provided additional registration information.
The corresponding registration deadlines are available on the academic calendar.
SESSION I (May 20 - June 14)
ANTH 210. Introduction to Cultural Anthropology
Professor David Iyam
MTWR 9:30-10:50 a.m.
Detailed studies of several societies that are geographically and culturally distant from mainstream American society. Focus on issues of ecology, political economy, and social and cultural change as they influence the diverse behaviors and traditions of selected peoples. Several regions are studied in the context of their global and internal similarities and differences, as well as their cross-cultural and internal dynamics.
ANTH 212. Peoples and Cultures of Africa
Professor David Iyam
MTWR 11:00 a.m. -12:20 p.m.
This course is designed to give students an understanding of the diverse cultures of sub-Saharan Africa. An examination of the fundamental patterns of traditional African cultures will be used to understand current events in Africa. Illustrates how the daily lives of the majority of African people are influenced by tenacious indigenous institutions
THEA 110. Introduction to Acting
Professor Gil Gonzalez
MTWR 9:00 a.m. -12:00 p.m.
This course introduces students to ideas on/about performance. This introductory course focuses on fundamental stage techniques for the actor; stage geography, body positions, motivated action, timing, stage business, analysis of the script/role, and conditioning. Principles from the teachings of Spolin, Stanislavski, Laban, Bogart, Benedetti, and more will be used for both scene and monologue study.
INTD 290. Los Angeles Integrated Arts Program
Professor Jennifer Homes
MTW 9:00 a.m. - 4:30 p.m.; Th 5 p.m. - 11 p.m.; F 10:30 a.m. - 1:30 p.m.
The core theme for the 2013 course will Ways of Knowing: Exploring the City of Angels. Daily classes are designed to be experiential in nature and will incorporate discussions, lectures, film screenings, workshops, visiting guest artists, and excursions to various cultural institutions in the Greater Los Angeles area. Past excursions have included Disney Concert Hall, LA Opera, Ahmanson Theatre, Geffen Playhouse, Museum of Tolerance, Grammy Museum, Los Angeles County Museum of Art, Geffen Contemporary, Huntington Gardens, and the Whittier Hills. INTD 290 is coordinated by Jennifer S. Holmes, Associate Professor of Theatre & Communication Arts and Director for the Center for Collaborations with the Arts. The course is team-taught by Whittier College professors from across the curriculum, resulting in an exploration of subject matter from multi-disciplinary perspectives. Learn more.
SESSION II (June 17 - July 26)
THEA 101. Essentials of Public Speaking
Professor Gil Gonzalez
6/17-7/26, MWR 10:00 a.m. -12:00 p.m.
Theory and practice of the fundamental principles of public speaking. Empowers speakers with positive preparation techniques. Focuses on speaker confidence, body language, breathing, clarity of message and connection with audience during delivery.
SESSION III
BSAD 130. Business and Society (August 1 - 27)
Professor Dan Duran
MTWRF 9:00-12:00 and 1:30-3:00
An introduction to business and management in America. The central focus is on the interrelationships of technological, economic, political, and social forces within business enterprises and on management's ethical obligations to owners, employees, consumers and society at large.
ART 204. Digital Photography Workshop (June 4-27) – Online Course
Professor Danny Jauregui
TWR 10:00-11:00 a.m.
This course will acquaint students with the fundamentals of Digital Photography including traditional and experimental uses of Adobe Photoshop. Emphasis will be placed on visual communication of ideas through the medium of digital photography. Instruction will cover topics such as manual camera operations., basic image correction, digital image manipulation, and will also cover fundamentals of composition and 2-D image organization. The assignments will include consideration of the cultural/political impact of digital manipulation, the relationship between subject and photographer, and the historical implications of photographic objectification. No Prerequisite is required, however previous enrollment in Art 100, 101 or 210 is recommended.
SPAN 220, Intermediate Spanish I (May 20-June 14) – Online Course
Professor Doreen O'Connor-Gomez
Course Description: As an online course, extensive web-based instructional materials will be used. This class is suggested for self-motivated students with strong time-management and study habits. SPAN 220 continues the development of the four basic language skills (speaking, listening, reading, and writing). While receptive skills are reinforced, SPAN 220 places increased emphasis on the productive skills of written and spoken communication. This course will emphasize description and comparison, reactions and recommendations, narrating in the past and talking about likes and dislikes as well as other topics. Students will also expand their knowledge of Hispanic culture with readings and activities that place the Spanish language into its cultural contexts. This course requires a final oral examination online.
THEA 260, Chicano/Latino Theatre (August 1-21) – Online Course
Professor Gil Gonzalez
Traces the contextual, thematic, and historical influences of Chicano/Latino theatre. Analysis of plays, performances, movements, and theatre troupes that express the experiences of the Chicano/Latino people.